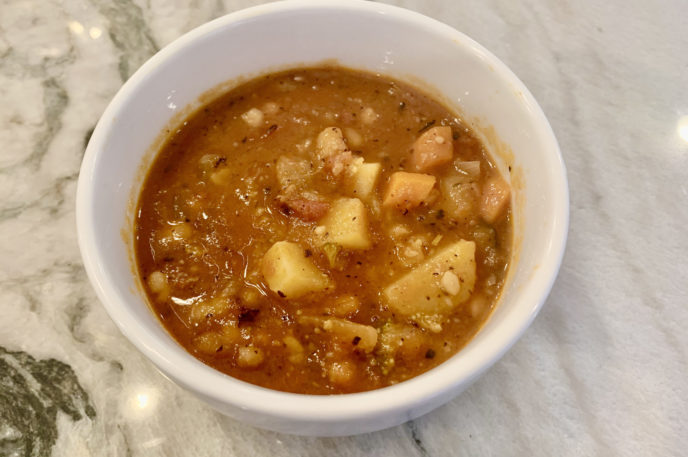 The coldest season of the year asks us to turn inward and rest, rest, rest. But rest doesn't just involve getting a good night's sleep; it engages every part of our being. Eating warm, light foods allows our digestive systems to rest as well, so the body doesn't need to work so hard to process the foods we choose to eat.
This soup is versatile, and can be easily tweaked to utilize the ingredients in your refrigerator or pantry. Try baking some crunchy chick peas on the side—delicious!
Minestrone Soup
2 Tablespoons butter
1 onion, chopped
4 Potatoes, peeled and chopped
4 carrots, peeled and chopped
1 large zucchini, chopped
1 Tablespoon olive oil
1 (15 oz) can cannellini or other white bean (drained)
1 (28 oz) can crushed, fire-roasted tomatoes
2 cups broth or water
1 cup frozen vegetables (broccoli, peas)
Sea salt, to taste
Freshly ground pepper, to taste
Various seasonings, to taste (rosemary, garlic powder, basil, oregano)
Directions
Melt the butter in a large pot. Saute the onion about 3-4 minutes, or until translucent and fragrant. Season with salt and pepper. Add the potatoes and mix to combine. Cook for 5 minutes. Then add the carrots and zucchini. Drizzle with the olive oil. Mix and cook for 5 minutes longer.
Add the beans and stir. Then add the canned tomatoes and broth or water. Season with the herbs and stir to combine. Cover and allow to cook for about 20 minutes. Add any other delicate vegetables, such as broccoli or peas, toward the end of the cooking time. Season with salt and pepper to taste.
Continue Your Eating-for-Healing Journey
Looking for a more soup recipes? Just click here.
Join our virtual Winter support session, Qi and Soup with Grand Master Nan Lu. Nourish your body, mind, and spirit, and start 2022 with a healthy dose of TLC.
Eating warm and light is an integral part of our Dragon's Way Qigong® program: Qigong, ancient wisdom, lifestyle awareness—new 6-week session starting January 24!