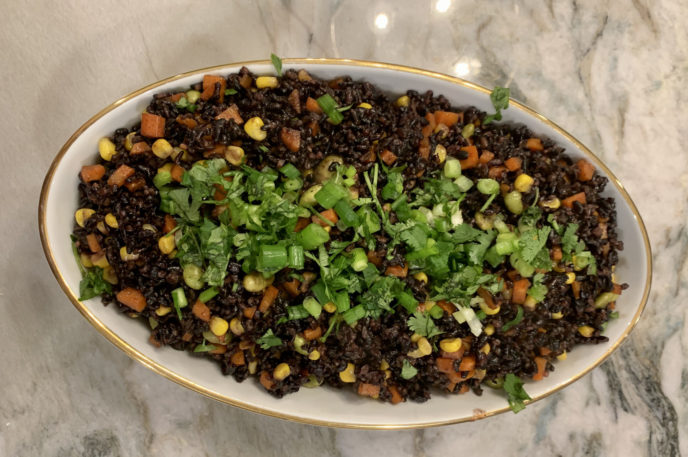 Comforting and simple are the two best ways to describe Winter cooking. Warming, nourishing foods help support our bodies through the coldest season of the year and give our digestive systems a much-needed rest. Yet, to conserve our Qi, we choose foods that are simple to prepare. In a way, the most bang for the buck!
This version of fried rice is simple, simple, simple and tasty, tasty, tasty. Use day-old rice for the best texture (and shortest cooking time). The cilantro gives a nice pop of fresh flavor at the end. Feel free to substitute any of the vegetables or herbs in this recipe with other favorites you may have at home.
Forbidden Fried Rice
1″ fresh ginger root, diced
2 cloves garlic, diced
1 teaspoon avocado or grapeseed oil
3 carrots, peeled and diced (or 1 cup frozen)
3/4 cup shelled organic edamame
1 cup frozen corn
6 cups forbidden rice, cooked
1 1/2 Tablespoons toasted sesame oil
2 Tablespoons tamari soy sauce, to taste
1 egg, optional
3 scallions, whites and greens chopped
Fresh cilantro, chopped, to taste
Directions
Heat a large cast-iron pan (or wok) over medium to high heat. Add the ginger and garlic until fragrant. Then add the olive oil. Add the carrots and saute for 3-4 minutes, being careful not to burn the garlic. Then add the remaining vegetables and mix.
Add the rice to the pan. Using a flat spoon, break up the rice, and mix well to fully incorporate the rice into the vegetables. Drizzle the sesame oil and soy sauce over the rice evenly, and again mix well.
Cover and let cook over low heat for about 15 minutes, or until the carrots are soft and the rice is warmed through. Taste and season as needed.
Plate the rice. Then crack the egg (optional) into the warm pan and scramble. Top the rice with the scrambled egg, chopped scallions, and cilantro.
Continue Your Eating-for-Healing Journey
Looking for a more traditional Fried Rice recipe? Just click here.