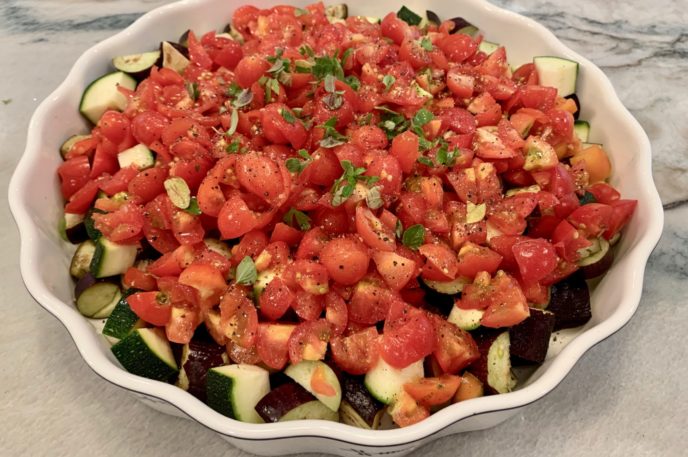 As the weather gets cooler and summer clothing gets packed away, we long for warmth and comfort. Out come the sweatpants and cozy socks, and in the kitchen, we cook up something equally as nourishing.
This week, we've created two recipes. The first uses the last eggplant, zucchini, tomatoes and fresh herbs harvested from the backyard garden. The second is comfort food at its finest, with carrots, potatoes, zucchini, celery, and (optional) roasted chicken. Both are a true reminder of the season, with the multitude of colors we see spreading across the changing landscape. Bring the comfort of Fall within and try one (or both!) of these recipes today.
Garden Fresh Eggplant
6 Japanese eggplant (or 1 large), cubed
1 zucchini, cubed
3 cups cherry or plum tomatoes, chopped
3 cloves garlic
1-2 Tablespoons fresh herbs, such as oregano, basil, thyme
1 Tablespoon olive oil
Freshly ground salt and pepper, to taste
2 Tablespoons pine nuts, optional
Directions
Place the cubed eggplant and zucchini in a baking dish. Top with chopped tomatoes, garlic and herbs. Drizzle with olive oil. Add salt and pepper to taste.
Cover and bake in a 350 degree oven for 10 minutes. Gently "fluff" with a fork, adding an extra drizzle of olive oil if the vegetables seem dry. Uncover and bake for an additional 20-25 minutes, or until the tomatoes are cooked down and the vegetables are soft.
Heat pine nuts in a small frying pan until they are lightly browned. Place atop the vegetables and serve over rice.
Recipe 2
Looking for something a bit more filling? Maybe a vegetable stew to ward off Fall's evening chill? Feel free to adjust this recipe to your liking, adding vegetables that you may have on hand. Feel free to substitute the chicken with a can of drained chick peas or white beans (both beneficial to the Lung), or simply enjoy the vegetables on their own. And when this dish is ready, curl up with a nice warm bowl next to a fire to toast your toes.

Vegetable (and Chicken) Stew
1 Tablespoon olive oil
1 Tablespoon butter
1 onion (white or yellow), sliced thinly
2 bone-in chicken breasts
4 bone-in chicken thighs
4-5 potatoes, peeled and roughly chopped
5 carrots, peeled and roughly chopped
1 zucchini, roughly chopped
6 stalks celery, roughly chopped
fresh herbs, such as basil, oregano and parsley
salt and pepper, to taste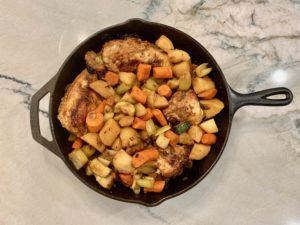 Directions
Heat a large skillet over medium heat. Add the olive oil and butter. Stir until melted. Then add the onion and sauté for about 5 minutes, or until the onion is translucent. Add the chicken, skin side down, until the skin is brown and crispy, about 10 minutes. Loosen the chicken from the bottom of the skillet and flip it over. Add the potatoes, carrots, zucchini, celery and fresh herbs. Season with salt and pepper. Add about 1/3 cup water and cover the skillet. Allow to cook for about 45-60 minutes or until the vegetables are tender and the chicken is cooked through.
Continue Your Eating-for-Healing Journey
Looking for more recipes? Just click here.
Ever wonder why our bodies crave warming foods in the cold weather? Give this post a read!
Join Us… Virtually!
Eating well is just the first step to whole body healing.
Join our Morning Qigong with Grand Master Nan Lu to start your day off on the right foot.
This unique 5-week program begins October 17th. We'll meet over Zoom on Tuesday and Saturday mornings at 8am.
Are you up for the challenge?