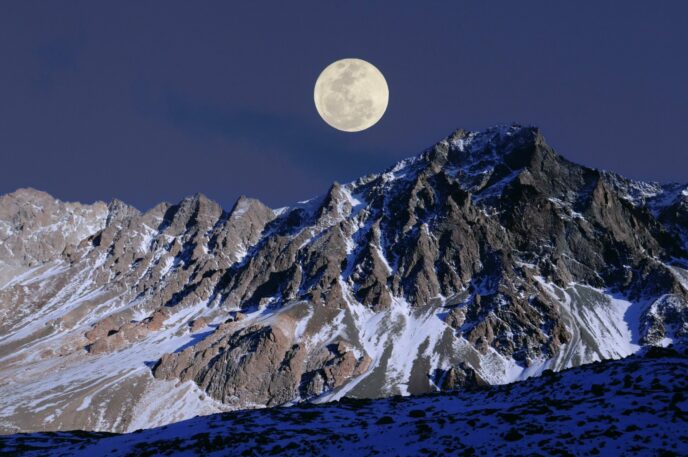 Every month, we have the ability to experience the intensity of Universal Qi. It's right there, bold and bright in the nighttime sky. The full moon reminds us of our powerful presence and our everlasting connection to the Universal. Tapping in to that power and beauty not only intensifies our own but gives us the ability to recharge, refresh, and renew. This month's showing—and the last of 2022—will grace the skies on Wednesday, December 7 at 11:09 pm EST.
This year has been a whirlwind of celestial energy, and there's plenty more in store. Up ahead, one final full moon—the Cold Moon—as well as two meteor showers and the Winter solstice, help close out the year and welcome a year of new beginnings. While the Geminid meteors will be visible from December 4–20, they will reach their peak between the late hours of December 13 and the early morning hours of December 14. Just about one week later, we celebrate the Winter solstice, which ushers in the shortest day of the year and the official first day of the Winter season. Interesting to note—Mercury will appear at its farthest distance from the sun on the same day, making December 21 a great day for sky gazing. Keep your gaze upward for one more day to take in the Ursids, the final meteor shower of the year.
You create your own reality. What do you want to achieve in 2023?
At 9:00 pm EST on Wednesday, December 7, join our virtual December Full Moon Practice. Imagine that you are inside the moon, or better yet, envision yourself as the full moon itself. Focus on the things you'd like to achieve in 2023 as you hold the Qigong posture, The Dragon Stands Between Heaven and Earth. Hold this posture for 30 minutes, or as long as you can. Each minute of your practice represents a new intention for the coming year. What power you have to create a bright, healthy, and prosperous 2023!
A Look Ahead
Welcome in 2023 with a new session of Tao of Morning Qigong.
Check out our Calendar of Events for fresh, new ways to ring in the new year: Winter Cleanse, Qigong for Breast Health Intensive, and Dragon's Way Qigong® Instructor Training.