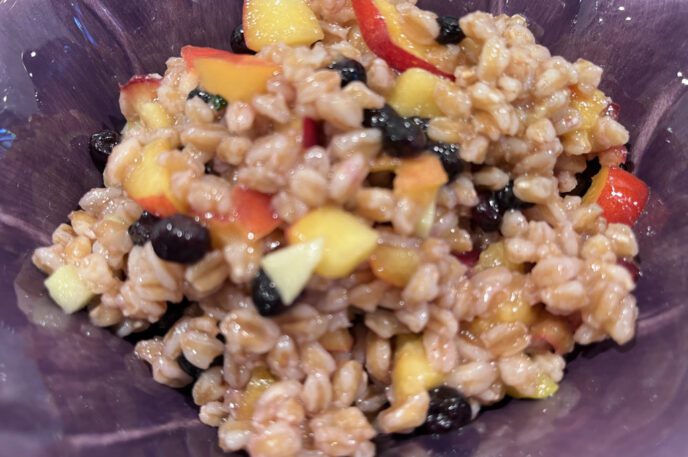 Summer is the perfect season to experiment with flavors and textures in the kitchen. With nutty flavor and a chewy texture, farro—an unassuming grain—is full of both! We chose the juiciest summer fruits and let our creativity wander to create this tangy yet sweet farro fruit salad. Use our recipe as a starting point, but feel free to substitute the fruits you have in your fridge.
Hint: This salad tastes better with age, as the farro soaks up all of the dressing. Let it marinate in the fridge for a few hours, or even overnight, for best flavor. It's delicious alone as a light lunch. You can also pair it with grilled fish for a more complete dinner.
Ingredients
1 cup farro, rinsed and drained
2  1/4 cup water
1  1/2 cups dried blueberries (for added texture) or 2 cups fresh blueberries
4-6 nectarines, diced
1/2 green apple, peeled, seeded, and diced
1/4 cup olive oil
3 Tablespoons apple cider vinegar
1  1/2 Tablespoons honey
pinch of salt
Directions
Bring the water to a boil and add the rinsed farro. Reduce heat to low and partially cover the pot. Simmer for 25 minutes, or until tender. Drain any water that remains.
Meanwhile, make the dressing. Add the olive oil, apple cider vinegar, honey and salt into a small jar. Cover and shake well to combine.
Place the cooked farro in a medium-sized bowl. Add the dried blueberries and the dressing. Mix to allow the honey to fully melt and combine into the warm farro. (If using fresh blueberries, add them in the next step with the remaining fruit.)
Allow to cool to room temperature. Then add the diced fruit. Mix well and refrigerate for a few hours or overnight.
Looking For More Recipes?
Look no further! Click here to try some delicious recipes inspired by our Dragon's Way Qigong program.
Our 7-Day Journey to Heart Harmony with Grand Master Nan Lu is around the corner! Practice Heart-centered Qigong practices, enjoy a creative eating style, and discover what inspires you. June 17-24. Register!