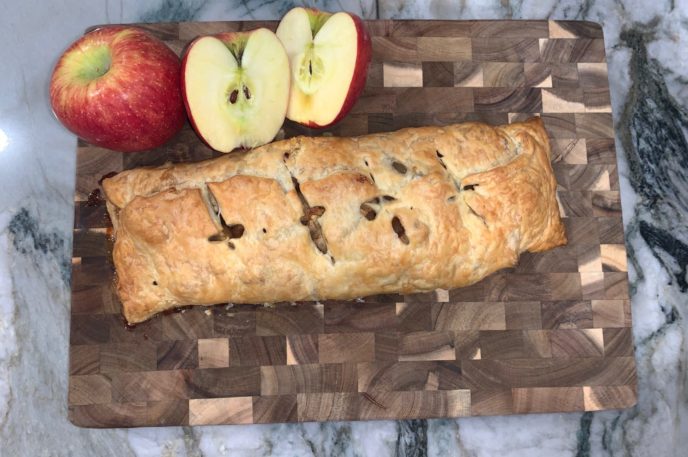 Put your hands up high if you're the giving kind. Maybe you're a mom or a dad, a sister or a brother, a boss or a helpful employee. Or it could be that you just don't know how to say "no". You volunteer for this and that, giving your time, money and attention to others. You make dinner, fold laundry, do the grocery shopping, complete a work project and still manage to smile at the end of a busy day. Is your hand still raised? Well, sit back and relax, because we have a recipe for you!
Apples are one of those unassuming fruits that many people take for granted. They're sweet and juicy, and lend themselves easily to many dishes. Try baking whole apples with walnuts and honey, adding cooked apples to oatmeal or barley, topping chopped apples with a mixture of brown sugar, oatmeal and butter, or pureeing cooked apples with cinnamon. Any one of these recipes will make for a delicious treat. However, we've just upped the ante with this simple yet indulgent recipe. It's a perfect last-minute dessert, but go ahead, serve yourself a slice for breakfast—we won't tell.
Apple Turnover
1 sheet puff pastry, at room temperature
4 apples, peeled, cored and quartered
2 Tablespoons brown sugar
1 Tablespoon cinnamon
Directions
Preheat oven to 400.
Lay the puff pastry on a parchment-lined cookie sheet. Set aside.
Chop the apples into roughly 1/4″ pieces. Add the apples to a medium-sized bowl. Add the brown sugar and cinnamon and mix until the apples are well coated.
Add the mixture to the center of the puff pastry, leaving about 1-2 inches of open space on each of the long edges.
Fold the left side of the pastry over the apples. Then fold the right side of the pastry over the top. Pinch the puff pastry together, both across the center seam and the top and bottom edges, to enclose the filling. Using a sharp knife, make 3-4 small cuts diagonally across the center seam to allow the steam to escape.
Bake in the center of the oven for about 25-30 minutes, or until the puff pastry is golden brown.
Are Apples TCM-Approved?
You bet! Think about how an apple tree grows. During its many months of growth, most varieties of apple trees need to spend 500-1,000 hours below 45°F. This "chill time" allows buds to develop in Spring. If an apple tree does not spend an ample amount of time in the cold, buds may form later than expected or may not form at all, which could adversely affect fruit production. Some apple trees can even thrive in -20°F. Imagine how much energy you would expend just to survive if you were stranded in sub-zero temperatures. Now imagine all that the tree has to weather through Winter's chill, Spring's emergence, Summer's bloom and Fall's fruiting. When you eat an apple, you're giving your body a whole year's worth of Nature's messages. (This recipe seems even tastier now, doesn't it?)
Continue Your Eating-for-Healing Journey
Looking for more recipes? Just click here.
Want to learn more about the energetic essence of fruits and vegetables? Give this post a read!