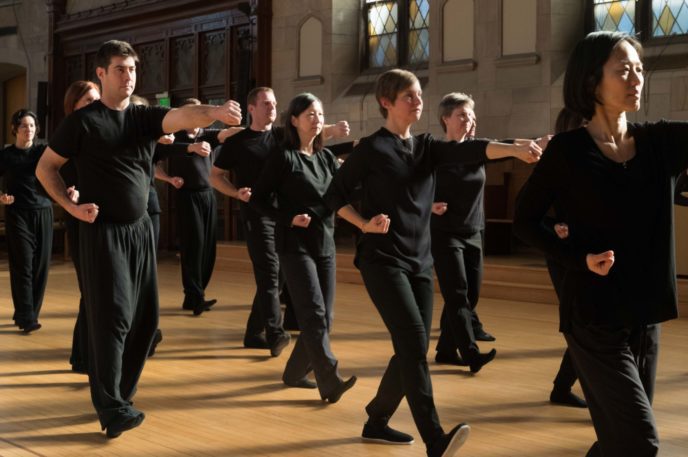 Dragon's Way Qigong® (DWQ) is a life-changing, 6-week program developed by Grand Master Lu. With ten Wu Ming Qigong movements at the heart of the program, participants begin to decipher their body's messages, and learn a new approach to eating—one that supports the body energetically.
Based on the underlying principle that everything is energy, DWQ offers participants a new way to understand their bodies, emotions, food, relationships and connection with Nature. When our bodies are in balance, Qi flows smoothly and freely through the meridians. Although this happens on an invisible, energetic level, we experience the benefits on a physical and emotional level. Balanced Qi equates to balanced emotions, healthy weight and digestion, peaceful sleep, a sense of calm, and a creative and energized spirit. When we are in a state of balance, disease cannot enter. But when Qi does not flow smoothly, our bodies send us messages—in the form of physical and emotional symptoms—to tell us that something is energetically off-balance. The quality of your invisible Qi shows on your physical body.
Some people happen upon DWQ, while others are simply drawn to it. It may be that they were searching for a lifestyle change; looking for a more balanced approach to eating; or seeking relief from physical pains, emotional imbalance or excess weight. But regardless of what brought them to DWQ, their results last long after their 6-week class has ended. Dragon's Way Qigong participants gain a deeper understanding of themselves as energetic beings, learn to view food from a new perspective, and reconnect to their intuitive healing ability—healing that comes from within.
Here are some comments from Dragon's Way Qigong participants:
 My chronic chest pain is gone.
This was a wonderful experience.
Insightful!
My anxiety, stress and worry melted away!
I am better able to digest my food.
I feel more grounded.
My sleeping patterns have changed for the better!
I learned tools that I can use in every day life.
Qigong is life-changing.
I feel calm and more prepared to handle the stressors that life throws at me.
My energy levels are higher than ever before.
My physical and mental health have both improved.
I have enjoyed carving out time for me.
My relationship with food has changed.
I wish the program was longer!
After months of back pain, I can finally stand up straight without pain.
I no longer have indigestion after eating, and I don't crave meat and heavier foods the way I used to.
I now have the confidence to know that I can heal myself.
Are you ready to begin your own healing journey? What results are you looking to achieve?
Our new virtual Dragon's Way Qigong program starts Monday, November 1 at 8:30 am EST, and will run for 6 consecutive Mondays over Zoom. Learn more and register.
Discover even more about Dragon's Way Qigong.