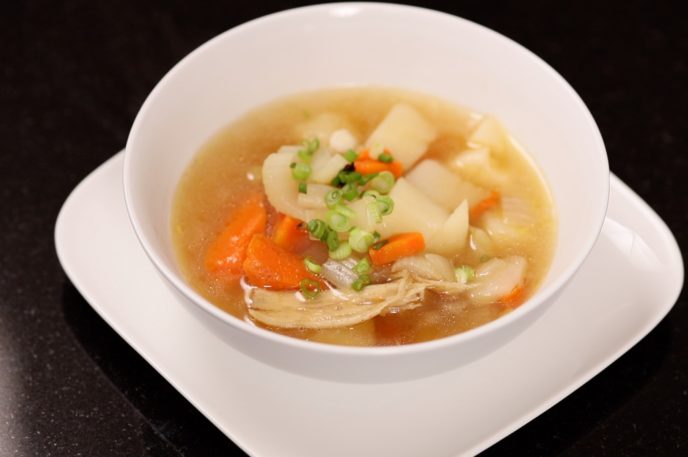 Rarely, if ever, does every person from every nook and cranny of the globe share in the same events at practically the same time. The world experienced connection of a different sort in 2020 and now into 2021. As we heal our bodies and minds from the Covid-era, we look for ways to deeply nourish ourselves and reconnect from within.
One thing that links every living being to another is food. As social creatures, humans delve into cultural understandings through the world of food, break bread together, and convene around a common table. While the world is not quite ready for that sort of togetherness, we can build ourselves and our families from within, and look forward to a time when we can join at the table once again.
Made with a blend of natural herbs, Chinese dates, astragalus and tangerine peel, this Ancient Herbal Soup mix gives you the power to stay strong and healthy. Make a pot of soup this weekend and share it with those in your circle.
Ancient Herbal Chicken Soup
1 package of ancient herbal mixture
8
slices fresh ginger, sliced
2 Tablespoons cooking wine

2 1/2 teaspoons salt, or to taste

2 teaspoons mushroom powder
3 scallions, chopped
Directions
Bring 2 quarts of water to a boil in a large stock pot.
Add the chicken and ancient herbal mixture to the pot. Let boil uncovered while you prepare the vegetables.
Chop the onion, carrots and celery so they are about the same size. In a large wok or skillet, warm 2 Tablespoons oil. Add 1 teaspoon of salt, 4 slices of fresh ginger, and the chopped onion. Saute for 1 minute. Then add the chopped carrots and celery.
Once the vegetables smell fragrant, add the cooking wine and mix. Then add the sauteed vegetables to the stock pot.
Now peel and chop the potatoes into cubes. Add the potatoes to the pot. Cover the soup and let cook for about 45 minutes.
Carefully remove the chicken from the pot. Discard the bones and add the meat back to the pot. You may choose to remove the herbs or leave them in.
Season with the remaining salt and mushroom powder, to taste.
Ladle the soup into your bowl and top with the chopped scallions.
Watch Grand Master Lu prepare this delicious soup in the video below!
Continue Your Eating-for-Healing Journey
Looking for more healing recipes? Just click here.
Join our upcoming virtual events and nourish yourself—body, mind and spirit.