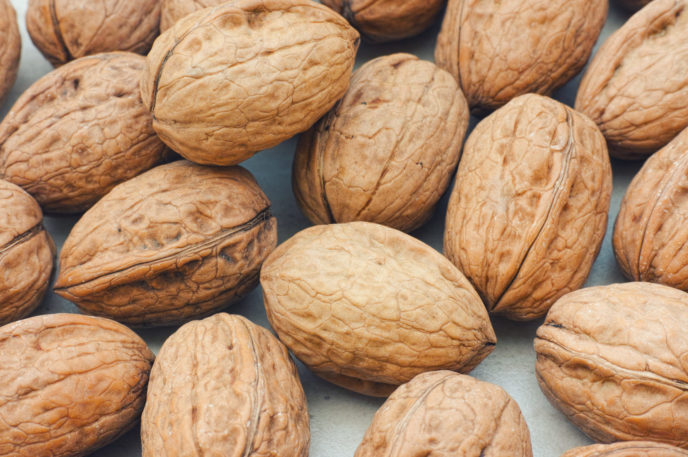 Eating in-season foods helps your body align itself with Nature's energies. In late fall, as your body prepares for the cold, dry winter, it is important to eat seasonal foods that either add moisture or help the body retain moisture.
Some foods that are especially beneficial at this time of year are apples, pears, spinach, cauliflower, eggplant, fennel, fresh ginger, lotus root, mustard greens, peanuts, walnuts, pine nuts, and radish.
Incorporating these foods into your daily diet will help you transition through the season with ease. Try this recipe for walnut soup, and then click here to find another delicious meal to make for dinner tonight!
Walnut Soup
Ingredients
3-4 cups boiling water
2 cups walnut halves or quarters
2 cups cold water
¼ teaspoon sea salt
½ cup sugar
½ cup maple syrup
4 cups cold water
3 Tablespoons cornstarch
Directions
Place 2 cups of walnut halves or quarters in a bowl and cover with boiling water. Cover with lid and let sit overnight.
Strain water and slide skins off of the walnuts.
Place them in a blender with 2 cups of cold water and blend for 2-3 minutes.
Pour the walnut "milk" in a 3 quart sauce pan with the salt, and sugar, maple syrup and 3-1/2 cups of cold water.  Bring to a boil, and reduce to a simmer.
Dissolve the cornstarch in the ½ cup of cold water and add it into the walnut soup, stirring as you pour.  Simmer until the soup has thickened to the consistency you like.
Additional ingredients for different tastes:  After the soup is made, sprinkle with toasted sesame seeds (white and/or black); chopped almonds, red dates, your favorite fruit such as chopped pear or apple, goji berries, and so on.  Have fun! Serve as a dessert or for breakfast.