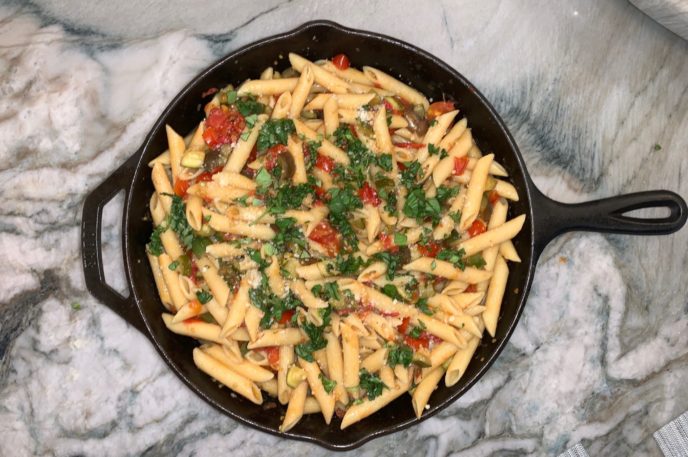 As the hot Summer sun warms the earth, juicy tomatoes and fleshy zucchini ripen. After laboring over a garden for months, harvesting the [literal] fruits of your labor is exciting beyond measure.
Think about the requirements one tiny seed must meet in order to grow into a full, fruit-bearing plant. It needs to receive the correct amount of sunlight, water and nutrients. In addition, it must be pollinated at the right time and in the right way. When all of those measures are met, your seed is able to grow into a strong plant capable of producing edible food.
So when you head outside empty-handed and skip back into the house holding a basket full of eggplant, zucchini and tomatoes, what do you do? Why not give this recipe a try?
Sauteed Garden Goodness
2 Tablespoons olive oil
3 cloves garlic, diced
2 small to medium zucchini
2-3 small Chinese eggplant
12-15 cherry or plum tomatoes
Freshly ground salt and pepper, to taste
1 lb pasta of your choosing
Fresh herbs, such as basil and thyme
1 Tablespoon Romano cheese, optional
Directions
Heat a flat-bottomed cast iron pan over medium heat. Add olive oil and diced garlic. Season with salt. Mix until fragrant.
Chop the zucchini, eggplant and tomatoes into 1/2 inch cubes. Add to the pan and mix to incorporate. Season with freshly ground salt and pepper. Mix occasionally.
Meanwhile, boil a large pot of salted water. Add the pasta and cook until al dente. Drain the pasta, reserving 3 ladles of the starchy water. Add the cooked pasta to the sauce and mix to combine. Add the pasta water as needed to loosen the sauce.
Top your finished dish with chopped fresh herbs and a sprinkling of freshly grated Romano cheese.
Then sit back and enjoy. This is Summer bounty at its finest!
Continue Your Eating-for-Healing Journey
Looking for more recipes? Look no further! Just click here.