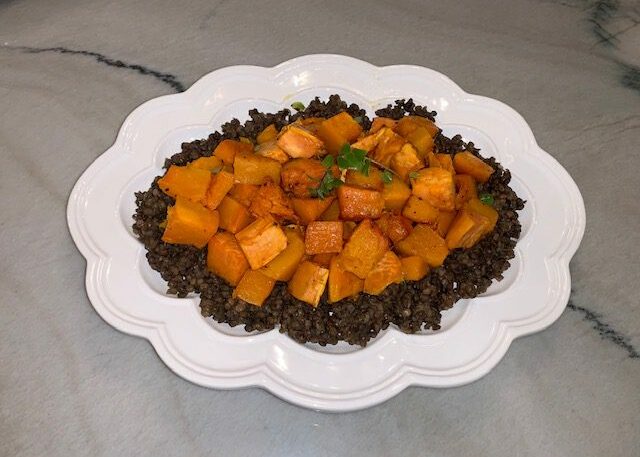 Nothing says Halloween more than the colors orange and black. These two colors automatically bring to mind the spooky, surreal images of this playful holiday. Although it's fun to decorate the house and dress the kids, why not carry the theme across to the dinner table?
The color, flavor, and warmth of butternut squash benefit the Stomach and Spleen, which have a "mother-child" relationship with the Lung, the organ associated with Fall. The deep black color of the lentils energetically supports the Kidney, the organ associated with our next season, Winter.
Black Lentils and Roasted Butternut Squash
1 butternut squash, peeled, seeded and cut into 1" cubes
1 sweet potato, peeled and cut into 1/2″ cubes
1 Tablespoon olive oil
2 Tablespoons salted butter
Chopped fresh herbs, such as basil or thyme, optional
Salt and cracked pepper, to taste
1 cup black lentils, rinsed and picked over
2 teaspoons mushroom powder
Directions
First, prepare the butternut squash.
Preheat oven to 375.
Add chopped squash, sweet potatoes, olive oil, 1 Tablespoon butter, salt, pepper and herbs to a large casserole dish. Mix to incorporate.
Cover and bake for 30 minutes. Then mix, carefully dislodging any stuck vegetables from the bottom of the pan.
Continue cooking, uncovered, for about 30 minutes, or until the squash and potatoes are tender.
Meanwhile, prepare the black lentils.
Melt the remaining butter in a medium-sized pot. Add the lentils and mix until coated. Add 4 cups of boiling water and mushroom powder.
Simmer with the lid tilted until the water is absorbed and the lentils are tender, about 40 minutes.
To serve, place the black lentils on a platter. Top with the cubed butternut squash and sweet potatoes, leaving a border of lentils visible on the plate. Garnish with herbs, if you desire. Serve warm or at room temperature.
Prefer a sweeter flavor?
In place of the cracked pepper and fresh herbs, add 2 teaspoons cinnamon and 1 Tablespoon each brown sugar and honey to the squash. Continue to follow the recipe as listed. To make this dish festive for the upcoming holiday season, add 1 cup fresh cranberries (or 1/2 dried) before baking.
Continue Your Eating-for-Healing Journey
Looking for more recipes? Just click here.
Here's a tasty recipe to try: Roasted Root Vegetables with Lentil Pilaf
Want to learn more about Fall from the energetic perspective? Give this post a read!