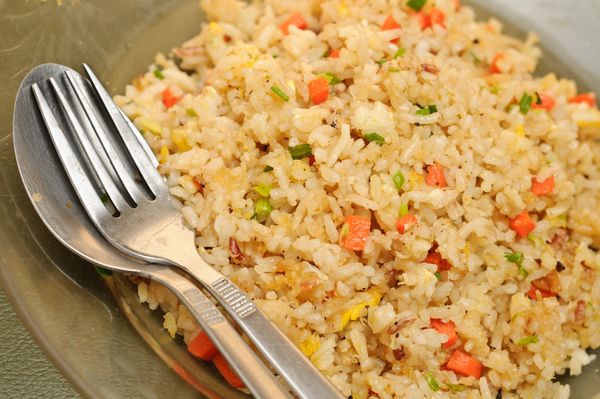 If you enjoy cooking food the Dragon's Way, this recipe is a fun and
uncomplicated one to try, especially if you have leftover rice and veggies in the refrigerator! It takes some prepping, but once you have all the ingredients assembled, it is easy to prepare and just as easy to eat.
Ingredients:
2 carrot, diced
3 stalks of celery, diced
1 onion, diced
2 scallions, sliced into quarter inches (separate green and white parts)
1/3 cup toasted pine nuts
1 Chinese sausage, diced
3 cups of cooked rice (black rice and white rice, cooked according to package's directions; leftovers are fine)
2 eggs, beaten
3 tablespoons of oil (refined for high heat, such as walnut or safflower)
Stages of cooking fried rice:
1) Heat wok, add oil just enough to coat the bottom of the pan, and allow it to get very hot. Sauté and scramble the eggs, remove from pan.
2) Rinse out wok with hot water, coat bottom of wok with oil and heat. Add sausage and sauté for 2 minutes, just enough to help the flavor to come out.
3) Add diced vegetables, chopped scallion whites, and pine nuts, saute until slightly tender and still crunchy (about 2 minutes).
4) Add rice to sautéed vegetables
Add seasoning: salt, mushroom powder to taste.
5) Add scrambled eggs, toss.
6) Add green parts of scallion, toss.
7) Serve hot and enjoy (until 70% full!)
For more fun and healthy recipes, click here.