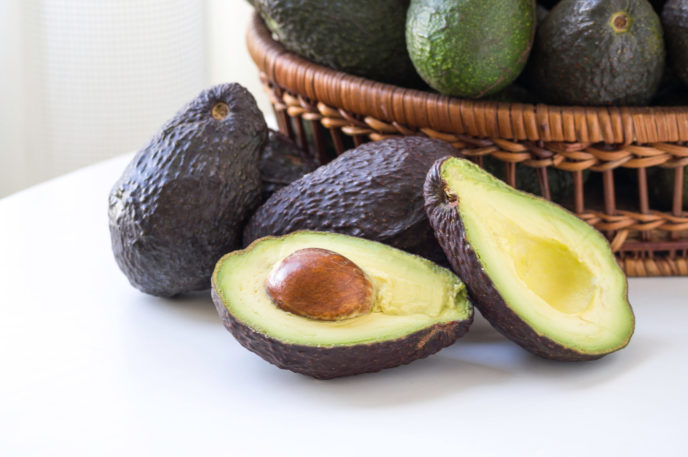 This time in quarantine has opened up a new realm of cooking. Kids are home all day long and the kitchen is rarely, if ever, closed. To top it off, those who have been able to score a select grocery delivery spot are opting out of heading to the store, and making the best of what arrives at their doorstep, even if limited. Others among us are choosing to be a bit creative with what we have at home, whether fresh, frozen or shelf-stable.
Over the next few weeks, we'll share some great recipes that require only a handful of ingredients. And the really great part? The ingredients in these recipes can be easily substituted with others you may have on hand.
This Week's Quarantine Cooking Focus: The Versatile Avocado!
Who doesn't love an avocado? The creamy green berry can be used in many dishes, sweet or savory. Avocado chocolate pudding, anyone?
Below, we're providing two recipes to show you just how versatile avocados can be. Be sure your avocados are ripe before slicing. Click here to learn how to choose, cut, and prepare the perfect avocado!
Recipe 1: Avocado Pasta
A treat for the taste buds, this recipe is super simple to prepare!
Ingredients:
2 cloves garlic, peeled and diced
2 cups cherry tomatoes, halved

2 ripe avocados, halved and seeded
2 Tablespoons Romano cheese, grated
3 sprigs fresh basil, roughly chopped
salt and freshly ground pepper, to taste
2 Tablespoons pine nuts, toasted, optional
Directions:
Boil a large pot of salted water and prepare your pasta. Reserve 1/3 cup pasta water.
Add 2 Tablespoons of olive oil to a saute pan over medium heat. Add the garlic and a dash of salt. Then add the cherry tomatoes.
While the tomatoes cook down, place the avocados, cheese, basil, salt and pepper in the bowl of a food processor. While pulsing, drizzle in the remaining olive oil until the mixture reaches a creamy consistency. Scoop this mixture into your serving bowl and immediately mix in the fresh lemon juice to prevent browning.
Add the sauteed tomatoes and the drained, cooked pasta to the serving bowl. Add the reserved salted water as needed to thin the sauce to your desired consistency. Toss and serve!
Recipe 2: Avocado Mango Salad
This recipe is simple to prepare, colorful to look at and refreshing to eat! It pairs exceptionally well with fish but can also be enjoyed on its own as a light lunch.
Ingredients:
2
mini oranges, in segments

1 Tablespoon olive oil
2 Tablespoons
cilantro, chopped, optional
salt, to taste
Directions:
Combine avocados, mango and mini orange segments in a bowl.
Add the lemon juice, olive oil, cilantro and a dash of salt to a small jar. Shake vigorously until the dressing is fully mixed.
Add the dressing to the fruit and toss gently. Yup, that's it!
TCM Tips:
Avocados are beneficial for your Liver, the organ that's energetically "on call" in Spring. Even more, as we begin the transition from Spring into Summer, avocados are used in salads and eaten with various seasonal fruits. Lemon juice, or other acidic component, is an essential element in any avocado dish to prevent browning. From an energetic perspective, lemons also help support your Liver function. In the salad recipe, the sweetness and color of both the mango and orange further benefit your Spleen and Stomach function.
Easy Substitutions:
These recipes are easily customizable! Try grapefruit in place of oranges in the salad, or give chives, mint or parsley a try instead of cilantro!
Prefer a heartier pasta dish? Add 1/3 cup toasted walnuts, 1/4 cup toasted pine nuts or 1/2 can drained cannellini beans to the avocados in the food processor.
Searching for a way to turn salad into dinner? Place a heaping spoonful of avocado mango salad over baked fish. Or add 1 cup of cooked quinoa to the completed salad. Let sit at room temperature for 15 minutes to allow the quinoa to soak up the dressing.
More Tips:
Click here to read Minimalist Cooking for tips on how to cook a delicious and healthy meal with what you have available at home.
Join Grand Master Nan Lu every morning at 9am! The focus of this series is: The Body Never Lies. To access the calls, visit grandmasternanlu.com and register for free. We look forward to having you in our circle.