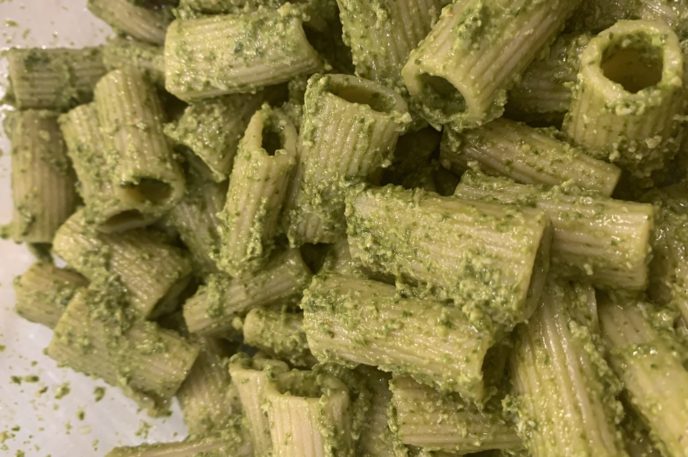 This time in quarantine has opened up a new realm of cooking. Kids are home all day long and the kitchen is rarely, if ever, closed. To top it off, those who have been able to score a select grocery delivery spot are opting out of heading to the store, and making the best of what arrives at their doorstep, even if limited. Others among us are choosing to be a bit creative with what we have at home, whether fresh, frozen or shelf-stable.
Over the next few weeks, we'll share some great recipes that require only a handful of ingredients. And the really great part? The ingredients in these recipes can be easily substituted with others you may have on hand.
This week's Quarantine Cooking recipe: Spinach Pesto!
Fool even the pickiest of eaters with this delicious homemade pesto. Bonus points for the chefs among us: this recipe takes a total of 5 minutes to make. And the best part of this dish is the fresh burst of lemon!
Ingredients:
2 cups baby spinach
1/4 cup walnuts, toasted
3 Tablespoons lemon juice
Salt and pepper, to taste
1/3 cup olive oil
1/4 cup Romano cheese (optional)
Directions:
Cook pasta in salted water. While the pasta is cooking, prepare the pesto.
Combine the spinach, toasted walnuts and lemon juice in a food processor. Pulse until roughly combined.
Add salt and pepper to taste. Drizzle the olive oil into the mixture while the machine is running, until the pesto comes together and has a creamy consistency.
Drain the pasta, reserving about 1/3 cup of the pasta water. Add the pesto to the pasta and cook over a low simmer for 1-2 minutes. Add pasta water as necessary to thin out the sauce.
Before serving, mix in the Romano cheese. Yum!
TCM Tips:
Wonder why the pesto is reheated and the nuts are toasted? Foods are more easily digested when they are warm! Vegetables, by nature, have a cold essence. By warming the pesto, we are making the entire dish easier on the digestive system. Walnuts are especially good for the Kidney, your body's energy storage tank. Toasting the walnuts for just a few minutes in a pan or in the oven, gives our bodies a break! Instead of using extra Qi to warm the spinach and walnuts, we're using our Qi for healing.
Easy Substitutions:
No fresh spinach in your fridge? No worries! Substitute kale, arugula, parsley, basil, or even a half-and-half mixture of any of these greens. For a fun twist, try adding 1 cup greens and 1 cup broccoli.
No walnuts in your pantry? Try pine nuts, cashews, pistachios, pecans, macadamias or almonds.
More Tips:
Click here to read Minimalist Cooking for tips on how to cook a delicious and healthy meal with what you have available at home.
Click this link
to listen to daily podcasts from the past few weeks from Grand Master Nan Lu. As you listen to his words, delve deeper and connect to the hidden messages contained within.