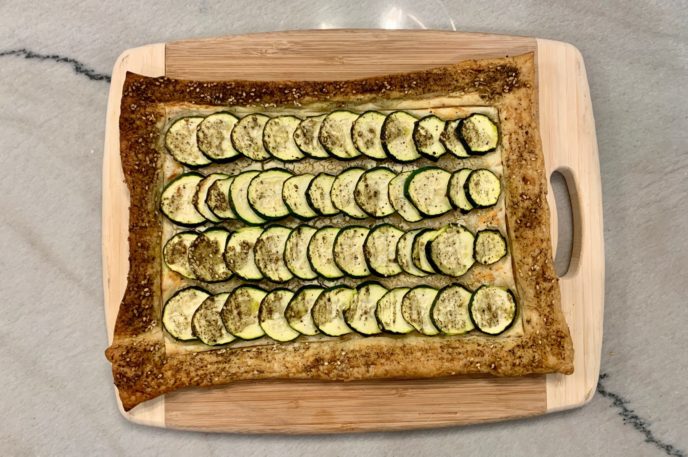 Every now and then, we need to treat ourselves. Some view a treat as a nice night out (or in), spending time out of the kitchen and away from "housework". But when a special meal (this one can be served for breakfast, lunch or dinner!) is this simple, the treat is in preparing it, serving it and watching the smiles unfold. Yes, even yours!
Vegetable Tart
1 package puff pastry, thawed at room temperature
1/2 cup spread of your choice (We used herbed goat cheese, but any drier topping will work here. Just be sure not to use something with too much moisture, as this will make the puff pastry too soft.)
2 zucchini, cut into thin rounds (Feel free to add other vegetables as well. Be creative!)
1-2 Tablespoons olive oil
1 Tablespoon fresh (or 1/2 Tablespoon dried) herb of your choosing (We used Middle Eastern za'taar seasoning, but feel free to experiment
Directions
Preheat oven to 400 and cover a cookie sheet with parchment paper.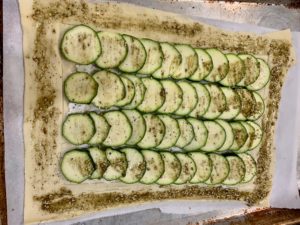 Unroll the thawed puff pastry and place it on the parchment paper. If necessary, cut it to fit on the cookie sheet. Using a sharp knife, form a border by gently cutting about 1″ from the edge, all the way around the puff pastry. Be sure not to separate the puff pastry, but go hard enough to form a "picture frame". This will allow the edges to rise while the center filling cooks.
Spread your filling of choice, using more or less depending on your taste, in the center section of the puff pastry. Carefully overlap and layer your vegetables to create the design of your choice. Look at this as edible art. What a fun opportunity to be creative!
In a small bowl, mix the olive oil and herbs together. Za'taar is a bit dry, so more olive oil was needed to form a thin paste. If you are using a different herb, halve the amount of oil used. Use a pastry brush (or the back of a spoon) to brush the mixture over the entire tart, including the crust.
Bake for 20-25 minutes, or until the vegetables are cooked through and the crust is golden brown.
Place the cooked tart on a cookie sheet and slice into thick pieces for easy serving.
You can stop reading now. Yes, it's that simple. Go ahead, take a bite!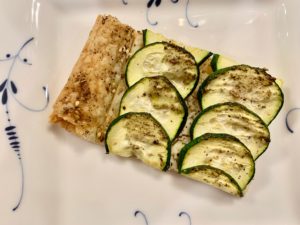 Continue Your Eating-for-Healing Journey
Looking for more recipes? Just click here.
Want to learn more about Fall from the energetic perspective? Give this post a read!