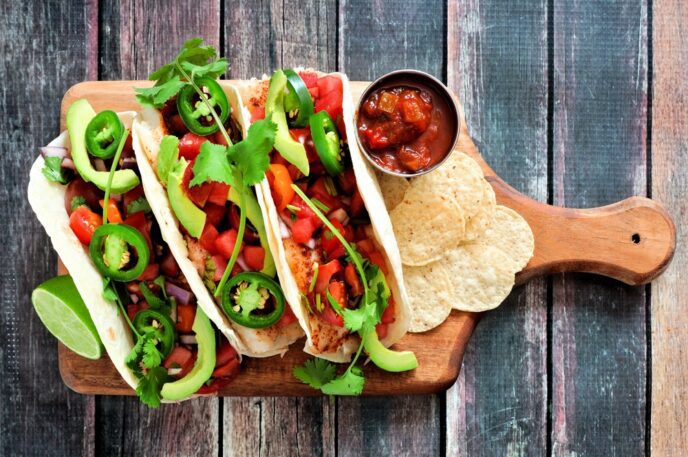 Ah, summer! Around the globe, school is out (or nearly out) and schedules have been thrown to the wind. Kids are at camp, swimming in the pool, or out playing with friends, and busy parents (a.k.a. glorified uber drivers and lifeguards) want something super simple and refreshing to feed their families. We hear you, home chefs. And we're here to help you out. Not only will we deliver on easy meals, but we'll provide nourishing eating-for-healing recipes that give you the energy you need to keep up with those growing kids. Bonus? Everyone will love them. Win-win.
Most people equate summer with barbecue and salads. But both require extra Qi to either break down and digest (barbecue) or warm up and digest (salad). We have a great solution—tacos! Isn't everything more fun in a taco anyway? (PSA: If salad is an absolute must, add a vinegar or ginger-based dressing to warm it up!)
Summer Tacos Two Ways
Every recipe listed here calls for organic taco shells. Pop the filling into a crunchy corn taco or soft flour taco—the shell is up to you. Just make sure you warm it up first.
Recipe 1: Cilantro Shrimp Tacos
(Serves 4-6 people)
1 lb peeled and de-veined extra-large shrimp
salt and pepper, to taste
2 Tablespoons salted butter
2 scallions, chopped
2 cloves garlic, chopped
zest and juice from 1 lime
handful fresh cilantro, chopped
3-4 plum tomatoes, diced
1 small red onion, diced
Directions
Rinse the shrimp and pay dry with a paper towel. Season with salt and pepper.
Melt the butter in a large frying pan. Turn the heat to medium-low and add the shrimp. Let cook for 1 minute. Then flip the shrimp and add the scallions, garlic, and lime zest. Cook until the shrimp is pink and opaque, about 2 minutes longer.
Remove from the heat and add the lime juice. Use a wooden spoon to deglaze the pan and mix the shrimp in the sauce.
Place in a warmed taco shell (hard or soft) and garnish with tomatoes, onion, and fresh cilantro. Add a squeeze of fresh lime juice if you'd like!
Recipe 2: Fish Tacos with Watermelon Salsa
(Serves 4-6 people)
1 lb white, flaky fish (cod or flounder)
1 Tablespoon olive oil
zest and juice from 1 lime
salt and pepper, to taste
1 avocado, thinly sliced, optional
For the salsa:
1 cup firm, ripe watermelon, diced
1/4 cup red onion, diced
1/2 jalapeño pepper, diced
juice of 1 small lime
handful fresh cilantro or mint, chopped
pinch white sugar, if needed
Directions
Heat your grill before prepping the dish.
Then add the olive oil, lime zest, lime juice, salt and pepper to a small jar or tupperware. Shake to mix.
Pat the fish dry with a paper towel and place on a plate. Pour or brush the olive oil mixture over the fish, ensuring that both sides are coated. Let sit 5 minutes.
Meanwhile, prepare the watermelon salsa: Add the watermelon, red onion, jalapeño pepper, lime juice, and cilantro/mint to a bowl. Taste. Add a pinch of white sugar if needed, depending on the sweetness of your watermelon. Set aside.
Place the fish on the hot grill for 2-3 minutes each side, or until the fish flakes easily with a fork.
Place fish in a warmed taco shell (hard or soft) and garnish with watermelon salsa. Add avocado and another squeeze of fresh lime juice, if you'd like!
Upcoming Event: Heart Harmony Summer ReSet: June 21-28, 2023
Join us for seven days of Qigong practice and eating for healing, along with guidance and wisdom from Grand Master Lu. It's a week-long experience you will not want to miss! Register today.
Learn More: Dragon's Way Qigong!
Eating for healing is a major component of our Dragon's Way Qigong program. Learn how this program can help you reset your life.