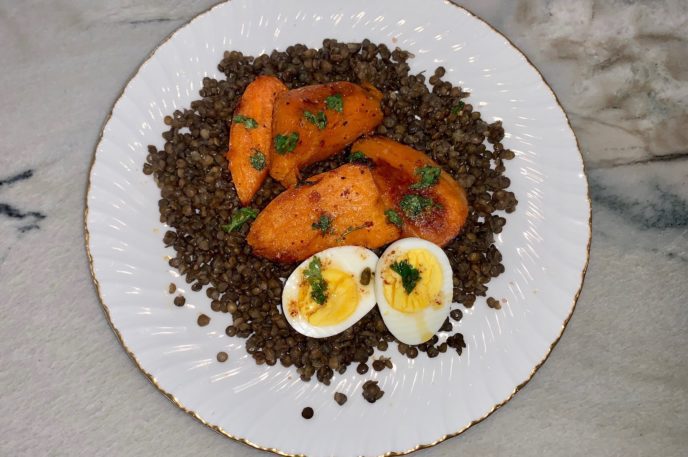 This time in quarantine has opened up a new realm of cooking. Kids are home all day long and the kitchen is rarely, if ever, closed. To top it off, those who have been able to score a select grocery delivery spot are opting out of heading to the store, and making the best of what arrives at their doorstep, even if limited. Others among us are choosing to be a bit creative with what we have at home, whether fresh, frozen or shelf-stable.
Over the next few weeks, we'll share some great recipes that require only a handful of fresh ingredients. And the really great part? The ingredients in these recipes can be easily substituted with others you may have on hand.
This Week's Quarantine Cooking Recipe: Lentils with Roasted Spiced Sweet Potatoes
We've elevated comfort food to a whole new level! This beautifully delicious dish has just 3 main ingredients. Make it our way—or yours—tonight!
Ingredients:
1 cup French green (or black) lentils, rinsed and picked over

2 small sweet potatoes, scrubbed and poked with a fork
3 eggs
2 Tablespoons butter
1 Tablespoon olive oil
1/2 teaspoon chili powder
Freshly ground salt, to taste
squirt fresh lime juice
1 teaspoon fresh cilantro, chopped, optional
Directions:
Combine the lentils with 2 cups of water in a pot over medium heat. Bring to a boil. Then reduce the heat to a simmer and cook loosely covered until the lentils are tender, about 30 minutes. Set aside.
Meanwhile, place the potatoes on a parchment-lined cookie sheet. Roast in a 425 degree oven for about 30 minutes, or until fork tender. Then remove the skins and slice each potato in half lengthwise and crosswise. Coat the potatoes with half of the spiced butter mixture (see below) and place back on the parchment paper. Broil for 5-10 minutes, or until the potatoes are golden brown in color and crispy on the edges.
In a separate pot, cover the eggs with cold water and bring to a boil. Let boil for 6 minutes. Turn off the heat and cook for 2 minutes longer. Remove the eggs with a slotted spoon and rinse under cold water. Tap on the side of a bowl and gently peel off the shells. Slice in half and set aside.
Spiced Butter: Melt butter in a small pot over medium heat. Add all remaining ingredients and remove from the heat.
To Assemble: Spoon the lentils onto a serving platter. Top with the roasted potatoes and eggs. Drizzle the entire dish with the remaining spiced butter mixture and season with salt, to taste.
TCM Tips:
Sweet potatoes support your Stomach and Spleen function, while lentils help to remove dampness, leading to better digestion and energy flow.
Easy Substitutions:
There are many ways to make this dish even simpler! Try using packaged steamed lentils and a dash of chili lime seasoning from Trader Joe's. That seasoning (or something similar!) will replace the chili powder and fresh lime juice in the recipe.
Prefer your potatoes cubed? No problem! Simply peel the potatoes and cube, adding to a parchment lined cookie sheet with the entire spiced butter mixture. Make a little bit more to drizzle on the dish before serving.
Not a fan of eggs? Simply leave them out, or replace them with another roasted vegetable (try yellow peppers to further support the Stomach) or crunchy shelled sunflower seeds.
More Tips:
Click here to read Minimalist Cooking for tips on how to cook a delicious and healthy meal with what you have available at home.
Learn more about sweet potatoes from both a Western and an Eastern perspective: Sweet Potato: How Sweet It Is!.