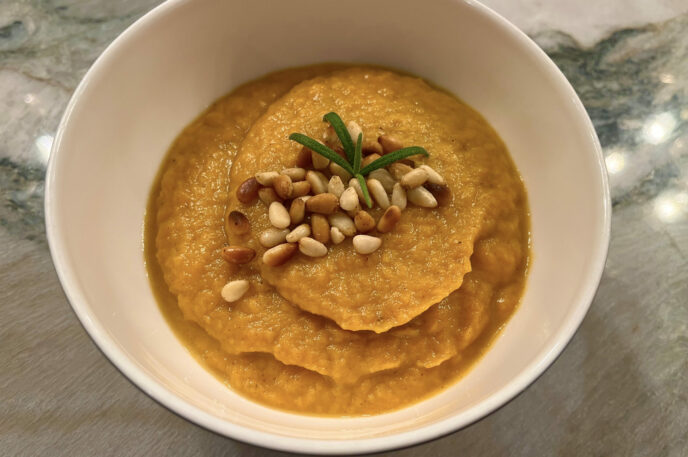 This soup is comfort in a bowl. Like a nice, warm hug, it embraces and fills you. It brings together the fruits of Autumn's harvest with some added warmth and spice to help you transition into the chill of Winter.
Butternut Squash Soup
Ingredients:
1 butternut squash, halved lengthwise
2 large sweet potatoes, halved lengthwise
1/2 stick unsalted butter
2 clove garlic, minced
1/2″ piece ginger root, minced
1/4 teaspoon fresh or dried rosemary
1 Tablespoon cinnamon
1 Tablespoon nutmeg
1/2 apple, seeded and minced
1 cup whole milk
3 Tablespoons brown sugar
toasted pumpkin seeds or toasted pine nuts, optional
Directions:
1. Heat the oven to 400 F. Place the sweet potatoes and squash cut side down on a parchment-lined baking sheet. Bake in the center of the oven for 40 minutes or until fork tender.
2. Melt butter in a stockpot. Reduce heat to low. Add the garlic, ginger, rosemary, cinnamon, nutmeg. Then add the minced apple pieces. Mix to combine.
3. When the squash and sweet potatoes are cool enough to handle, scoop out the flesh and add to the pot. Add the whole milk and brown sugar. Use a stick blender to puree the soup. Season to taste with additional brown sugar and cinnamon, if needed.
4. Serve hot, topped with toasted pumpkin seeds or pine nuts (optional).
Keep Cooking!
Interested in more eating-for-healing recipes? Visit our recipe section for soups, veggies, fried rice, and much more!