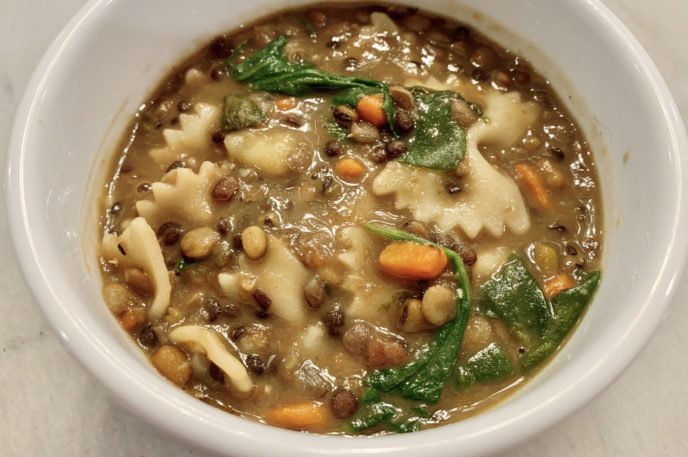 When the temperature dips down to the lowest of lows, it's time to turn up the heat—in the kitchen, that is! Cooking your vegetables and preparing warm soups allows your body to get the most out of your food without having to work so hard to digest it.
Many of the recipes on our website are quick and easy, but sometimes it feels really good to prepare a special meal. (Especially when one pot of soup becomes your go-to meal for a few days in a row!) This soup may take a bit longer to prepare, but it's worth every ounce of effort.
Using mung beans plus two types of lentils adds a nice texture and color to the bowl, but if you don't have an ingredient, get creative and search your pantry for an alternative. Try baking some crunchy chick peas on the side—delicious!
Hearty Lentil and Mung Bean Soup
1 Tablespoon butter
1 Tablespoon olive oil
1 onion, diced
1 cup small black lentils
1/2 cup green lentils
1/2 cup mung beans
3 small potatoes, peeled and diced
3 carrots, peeled and diced
1/2 pint grape or cherry tomatoes, quartered
10 cups broth or water
1 cup pasta, such as farfalle or small shells
5 ounces fresh spinach, roughly torn
1 teaspoon mushroom powder
Sea salt, to taste
Freshly ground pepper, to taste
Juice of one lemon
Directions
Melt the butter in a large pot. Add the olive oil. Saute the onion about 3-4 minutes, or until translucent and fragrant. Season with salt and pepper. Add the lentils and mung beans and mix to combine. Then add the potatoes and carrots. Mix and cook for 5 minutes longer. Finally, add the tomatoes. Saute for 10 minutes.
Add the broth or water and bring to a boil. Season with salt, pepper, and mushroom powder. Lower the heat to the lowest setting and cover, slightly vented. Allow to simmer for 45 minutes, or until the mung beans are just about cooked through.
Add the pasta and cook for another 8-10 minutes or until al dente. Add the fresh spinach and mix until wilted. Remove the pot from the heat. Ladle the soup into a bowl and add the finishing touch–a fresh squeeze of lemon juice.
This is intended to be a thicker soup. As it sits, however, the noodles and lentils will soak up more of the liquid. Simply refresh with a tablespoon or two of water and reheat over a low flame.
Continue Your Eating-for-Healing Journey
Looking for more soup recipes? Just click here.
Eating warm and light is an integral part of our Dragon's Way Qigong® program: Qigong, ancient wisdom, lifestyle awareness—new 6-week session starting January 24!