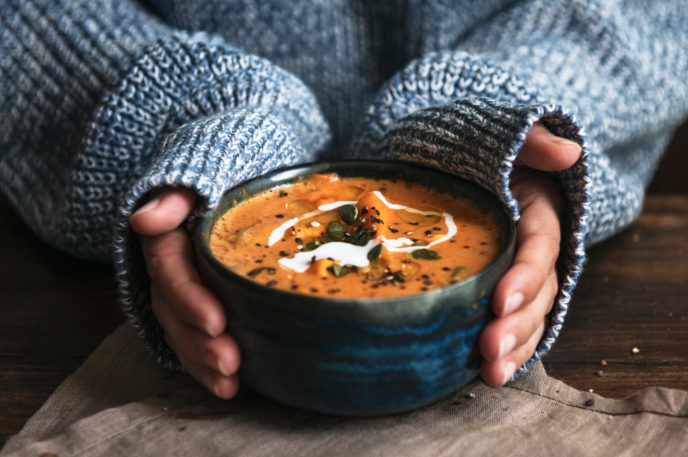 From one Zoom call to the next, people have been meeting the demands of work and school in creative ways. From creating makeshift offices to teaching math lessons and entertaining little ones between meetings, the face of "work life" has changed, and the spaces in which we function often serve multiple purposes. The kitchen table becomes virtual school in the morning, a place to hold meetings in the afternoon, and in between and after, a space to share meals, a board game and laughter.
No matter what the kitchen table has become in this challenging time, let it be a space to encourage healthy and proper digestion–not just of food, but of all information. Reduce stress by keeping the space as clutter free and organized as possible. And as you shift from virtual school to meetings to dinner, pause, take a couple of breaths, and let the day go. We can take a cue from the Yin Yang Theory. As one becomes the next, allow it to flow freely and seamlessly, one into the other. Feel that, even though these share the same space, they can both remain separate, balanced, and in harmony.
In Winter, Nature teaches us to turn inward and save our resources for our great awakening come Spring. In our homes, we do the same. We use only what we need, turning leftovers into soups and warming ourselves with tea near a cozy fire. We dress warmly, both inside and out, and rest whenever possible. In doing so, we are mimicking our greatest teacher–Nature herself. Nature knows how to play and rest, when to be busy and when to stay still. She perfectly balances the right amount of sunshine with just enough rainfall. And she knows that all of this Winter rest will bring great reward come Spring.
So when your kitchen table is finally cleared, and you sit down for a shared meal, remember this feeling of balance. Renew yourself with a warm meal and joyous conversation. Don't just eat your food, taste it. Savor every sauteed onion, creamy bean, crunchy nut and roasted veggie. Allow the harmonious space you've created to infuse goodness into everyone that enters.
Cook with us!
In TCM, foods are chosen for their healing essence. Certain foods carry an essence that supports a specific organ function. In Winter, we eat healing foods to benefit the Kidney and Bladder system. Choose foods that are black and salty, such as black beans, black sesame seeds, seafood, and all types of nuts, especially walnuts and pine nuts. Not sure how to bring these foods together? Try some of our tried and true recipes, or get creative and allow yourself time to play in the kitchen. Be sure to let us know what you've come up with!