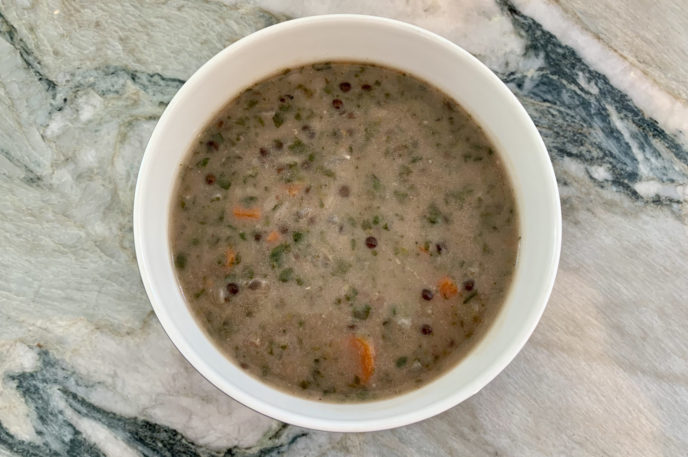 Soups are a great way to feed and nourish your body during the chilly days of Winter. This recipe calls for some non-traditional ingredients, which can all be substituted in equal proportions for their traditional counterparts, but why not change things up a bit?
While lentil soup usually calls for green or brown lentils, this recipe uses black lentils. Why? The color black is representative of the Kidney, the organ in charge in Winter. Tiny, black lentils also tend to be a bit firmer, holding their shape when reheated. And of course, Winter calls on us to conserve our energy. So instead of using frozen spinach and layering ingredients to add a full flavor profile, we use frozen creamed spinach. That means less time at the stove and more time to toast your toes by an evening fire.
Creamy Black Lentil Soup
1 1easpoon olive oil
2 cloves garlic, diced
1 yellow onion, diced
4 carrots, peeled and chopped
1 cup black lentils
22 ounces frozen creamed spinach
1/2 cup orzo
Freshly ground salt, to taste
Freshly ground pepper, to taste
1 teaspoon garlic powder
3 lemons, freshly squeezed
Directions
Add the olive oil to a warm, medium-sized pot. Add the garlic and onions, and cook until fragrant and translucent, 3-4 minutes. Then add the carrots and mix well.
Add the lentils to the pot and mix to coat. Then add 5 cups of boiling water. Allow the mixture to come to a simmer. Reduce heat to low and loosely cover the pot. Simmer for 15 minutes.
Uncover and raise the heat to medium. Add the frozen spinach patties one at a time, mixing to help the spinach melt into the pot. When all of the spinach is incorporated and the mixture has come back up to temperature, add the orzo, salt, pepper and garlic powder. Stir and cook until the orzo is al dente.
Taste and season to your liking. Spoon into bowls, adding the fresh lemon juice to each serving—not to the pot. Serve immediately.
Continue Your Eating-for-Healing Journey
Looking for more healing recipes? Just click here.
Join our virtual Winter Soup Cleanse with Grand Master Nan Lu, starting January 17. Nourish yourself—body, mind and spirit.