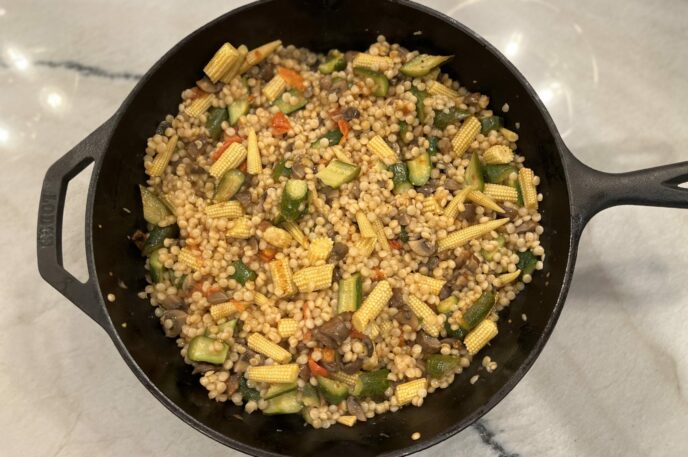 There's still a definite chill in the air, but Spring is on the horizon. Little by little, the days are getting longer and Nature is making its transition to the season of promise and potential.
In the northeast and other locations with colder climates, farmers are readying their beds for early spring plantings. Still, fresh zucchini, grape tomatoes, baby corn, and snap peas are slowly making their way onto supermarket shelves. Warming vegetables and grains are the perfect segue from Winter to Spring, giving us a few more weeks of delicious, nurturing comfort food.
This veggie couscous is ultra versatile. Follow the directions as shown below, or substitute your favorite vegetables and grains.
We like to keep things simple! With its single skillet preparation, cleanup is a snap, leaving you more time to enjoy the people around your table.
Veggie Couscous
Ingredients
2 Tablespoons olive oil
1 pint baby portabella mushrooms, chopped
1/2 pint grape tomatoes
2 cups baby zucchini, halved and chopped on an angle*
2 cups fresh baby corn, halved*
2 teaspoons mushroom seasoning
Freshly ground salt, to taste
Freshly ground pepper, to taste
2 cups pearled couscous
3 cups plus 2 Tablespoons boiling water
Directions
Heat a large cast iron skillet over medium-high heat for 5 minutes. Lower to medium-low and add the olive oil and mushrooms. Season with salt and pepper and saute for 5 minutes. Then add the tomatoes and cook for 5 minutes more. Add the zucchini and baby corn and mix with a wooden spoon. Cover and lower the heat to low. After about 5 minutes, add 1-2 Tablespoons of boiling water and continue to cook for 10 minutes longer.
Uncover the skillet and taste the vegetables. Season with mushroom seasoning, salt, and pepper. Add the pearled couscous and mix to coat. Then add 3 cups of boiling water. Again mix to incorporate the water into the couscous mixture. Cover and cook until the couscous is al dente, about 16 minutes. Fluff and serve.
*Note: This recipe is prepared with fresh, baby vegetables for a more tender bite. However, one large zucchini can be substituted for the baby zucchini. Simply quarter the larger zucchini and chop at an angle. If you don't have fresh baby corn, substitute canned.
Keep Exploring!
This recipe is Dragon's Way Qigong approved! Learn more about this incredible 6-week program.
Journey into Spring with our virtual 7-day Liver Qi Enhancement (March 19-26, 2023). Through Qigong practice and foods that support the Liver, you'll deeply connect to your own creative potential and ease yourself into the energetic frequency of Spring. Register today!