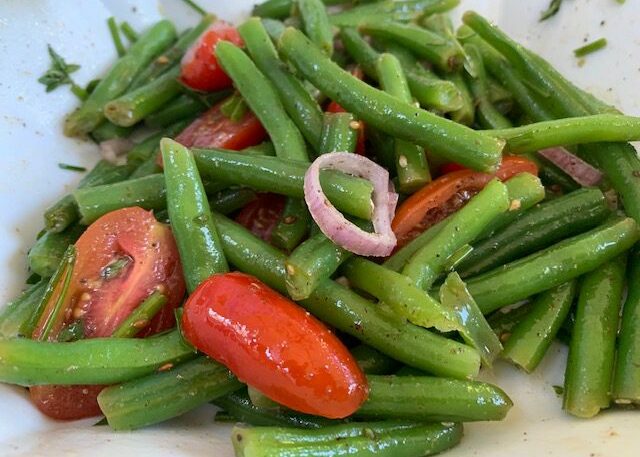 In the Northeast, Spring flowers are already in full bloom and pepper,  tomato, and cucumber seedlings have been nestled into the ground. But a few vegetables grow a bit earlier than the rest: string beans and peas. These two greens are especially supportive of the Liver.
Liver Qi flows up and out, like the branches of a tree. Imagine a tree rooted deep in the earth. It stands steady and strong, regardless of the winds that blow it from side-to-side. This free-flowing flexibility is characteristic of the Liver. Any foods,  like string beans and peas,  that grow up and out on a vine, will support this organ's functioning.
Spring String Bean Salad
This dish is delicious and super simple: just 10 minutes from start to finish, and it's healthy in so many ways. Lemon and mint give this dish a refreshing twist, and also support your Liver, making it the perfect side dish for your warm weather BBQ.
Ingredients
1 bag frozen string beans (haricots vests)
1/2 small red onion, thinly sliced
1 cup grape tomatoes, halved
2 cloves of garlic, minced
1/2 fresh lemon, juiced (or more!)
8 fresh mint leaves, chopped
freshly ground salt, to taste
freshly ground pepper,  to taste
Instructions
Steam the string beans until cooked through. Drain well and place in a bowl. Add onions and tomatoes. Make a dressing by. mixing the olive oil, garlic, lemon, fresh mint, salt and pepper. Mix well and. pour atop the beans. Serve!