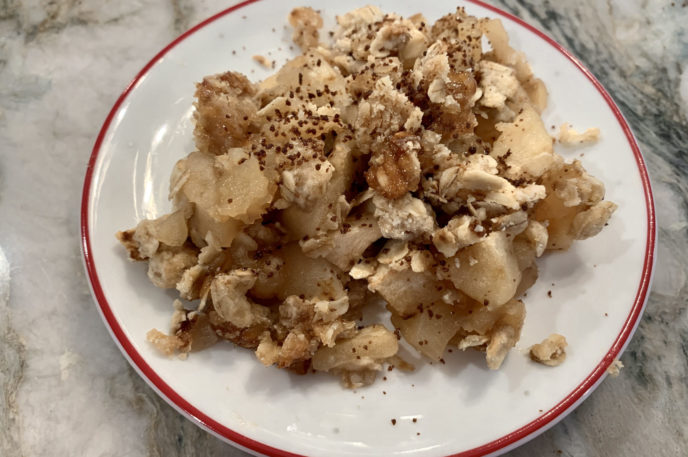 Chilly, damp Fall days call for something warm and comforting. And what's better than a gingery crumble atop fresh apples and pears?
Make this super simple recipe even easier and leave the apple peels intact. Simply add 2 teaspoons of water to the fruit to maintain the moisture before adding the crumb topping.
Magical Ginger Crisp
6 apples, cored and peeled* (peeling is optional)
2 pears, cored
Juice from 1/2 lemon
1-1/2 teaspoons Magical Ginger
1/4 teaspoon ground cinnamon
For the Crumb Topping
3/4 stick unsalted butter, cut into small pieces
1 cup flour
1/2 cup old fashioned oats
2 Tablespoons brown sugar
1 teaspoon Magical Ginger
1/4 teaspoon cinnamon
Instructions
Preheat the oven to 350F.
Cut the fruit into small pieces and place in a baking dish. To prevent browning, add lemon juice. Top with Magical Ginger and cinnamon. Mix well and set aside.
Make the crumb topping by mixing the flour, oats, brown sugar, Magical Ginger, and cinnamon in a shallow bowl. Work the butter into the other ingredients with your hands until small to medium-sized crumbs form. Sprinkle the crumb topping over the fruit. Bake for one hour. The fruit should be very soft and broken down and the crumb topping should be firm.
While the crisp is still warm, sprinkle some Magical Ginger over each individual serving. It will melt right into the warm apples and pears. Heavenly!
Are Apples TCM-Approved?
You bet! Think about how an apple tree grows. During its many months of growth, most varieties of apple trees need to spend 500-1,000 hours below 45°F. This "chill time" allows buds to develop in Spring. If an apple tree does not spend an ample amount of time in the cold, buds may form later than expected or may not form at all, which could adversely affect fruit production. Some apple trees can even thrive in -20°F. Imagine how much energy you would expend just to survive if you were stranded in sub-zero temperatures. Now imagine all that the tree has to weather through Winter's chill, Spring's emergence, Summer's bloom and Fall's fruiting. When you eat an apple, you're giving your body a whole year's worth of Nature's messages. (This recipe seems even tastier now, doesn't it?)
Continue Your Eating-for-Healing Journey
Looking for more recipes? Just click here.
Want to learn more about the energetic essence of fruits and vegetables? Give this post a read!