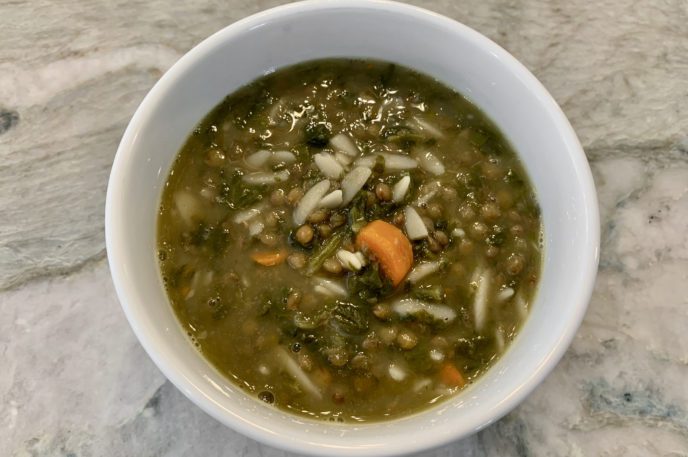 Cooler days call for warmer foods. This lentil soup is simple and delicious, and can be customized in many ways. Don't like carrots? Simply substitute your favorite vegetable. Are potatoes your preferred starch? Sub out the orzo for small, chopped potatoes. Regardless of what you put into the pot, warming soups are a good way to give your digestive system a bit of TLC.
Lentil Soup
2 Tablespoons olive oil
1 white onion, diced
3 cloves garlic, diced
2 cups small green lentils, rinsed
1 pound frozen chopped spinach
6 carrots, peeled and chopped
1/2 cup orzo
salt and pepper, to taste
2-3 freshly squeezed lemons, to taste
Directions
Heat a large pot over a medium flame. Add the olive oil, onion, and garlic. Mix quickly and then add salt and pepper. Continue to saute for 2-3 minutes longer, or until the onion is translucent and the garlic is fragrant.
Add the lentils to the pot and mix in the olive oil. Then add 12 cups of water and bring to a boil. Lower the flame to low and add the frozen spinach. Loosely cover the pot and allow to simmer for 5 minutes. Add the chopped carrots. Then mix and cover again for about 10-15 minutes.
When the lentils are almost tender, add the orzo. Cover and allow to cook until the orzo is al dente, about 10 minutes.
Remove the pot from the heat. Season with salt and pepper to taste. After spooning the soup into individual bowls, add 1 Tablespoon or so of fresh lemon juice, to taste. Season as needed. Refrigerate any leftover soup, adding water as necessary to rehydrate before heating. Season each serving with fresh lemon.
Hungry For More?
Check out the recipe section of our website for a bevy of soup recipes, from scallop soup to avocado soup, and just about everything in between.
Soup is part of the eating-for-healing plan in our Dragon's Way Qigong® program. Learn more and find an instructor in your area.