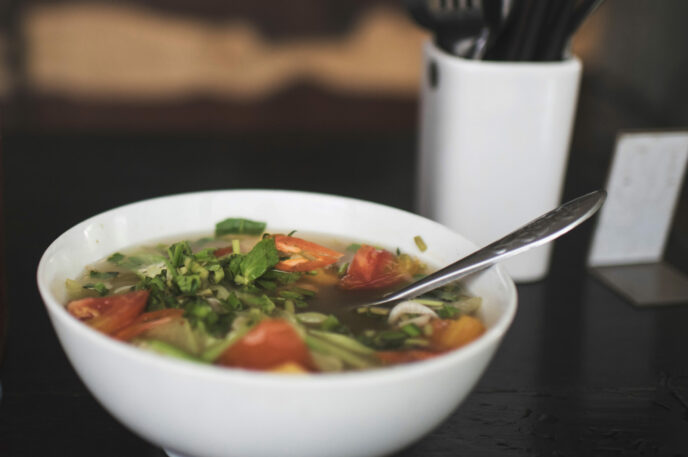 Have you cued in to Nature's messages of seasonal transition? In November in the northeast, the days are getting shorter and the colder weather seems to linger a bit longer past the morning chill.
Winter is just around the corner, which means soup is on the menu! For the remainder of Fall and throughout the Winter, eating cooked vegetables and warm foods is a great way to nurture yourself from the inside out. This recipe is quick and easy, and can be made with chicken or not. Feel free to substitute your favorite ingredients—or those you have on hand—for the foods listed in this recipe.
Spinach and White Bean Soup
Ingredients
1 Tablespoon olive oil
1/2 onion, diced
1 pint grape or plum tomatoes, quartered
1 can white or cannellini beans, drained
2 cups cooked chicken, shredded (optional)
3 cups fresh spinach leaves, washed
1 teaspoon mushroom seasoning
salt and pepper, to taste
Directions
Heat olive oil in a stock pot. Add the onion and saute for 2 minutes. Add the chopped tomatoes and saute for 5-6 minutes. Season with salt and pepper. Use a wooden spoon to break up the tomatoes.
Add 6 cups of water to the pot and bring to a boil. Add the beans, chicken (optional), and the fresh spinach leaves. Cook until the spinach is wilted. Season with mushroom seasoning, salt, and pepper. Remove from the heat and serve.
Looking for More?
Interested in foods related to Fall/Lung, or foods related to Winter/Kidney? Want more soup recipes? We've got you covered! Type your keyword in the search bar on our recipe page to satisfy your craving.