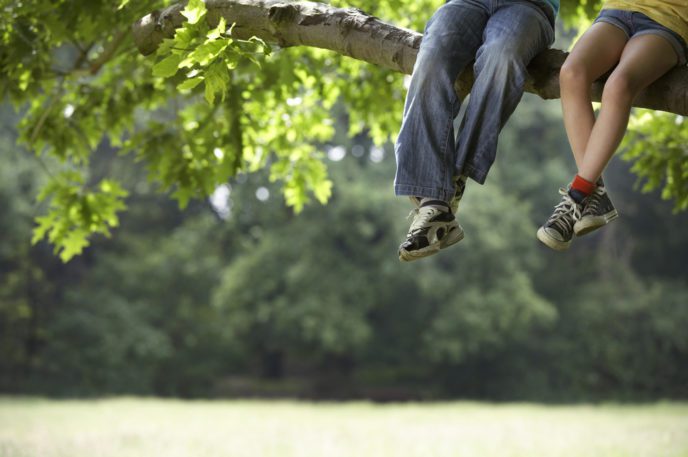 The link between Nature and humankind has been written about and explored for ages. It is a scientifically proven fact that spending time in Nature does a body good, and is even a prescription for wellness in some parts of the world.
From early childhood, climbing a tree relieves the stressors of everyday life. Many kids have their "secret hideout" either up high in a tree branch, or down on the ground in some sort of forest clearing. Why? Being out in Nature provides perspective and solitude. It allows the mind time to calm and the body time to recover.
Trees cleanse the very air we breathe, consuming nitrogen dioxide, ozone, sulfur dioxide and ash, so that our lungs can more easily filter the air. Researchers estimate that trees save 850 lives every year in the United States and prevent acute respiratory symptoms in 670,000 people annually. What a beautiful gift.
So, during this time of daily stressors and indoor living, remember to spend a bit of time with the biggest healer of all—Nature.
Here are some suggestions to make the most of this Spring weather:
1. Walk outside. Mask up and go for a walk down the block. Even in urban settings, walking down a tree-lined street has been proven to lower stress levels.
2. Start a garden. There is nothing better than seeing—and eating—the fruits of your labor. With just a few basic materials, you can have a garden started in no time. Can't get a seed delivery? No problem.Simply harvest the seeds from the fruits and vegetables you're eating. Click here for some tips.
3. Escape to your own backyard. If you are lucky enough to have your own private getaway, take advantage of the solitude. When you walk outside, try to view it with fresh eyes—the way a young child would. Look for nooks and brambles, creating your own private space to reflect and just be. If you're so inclined, invite your children in with you. Allow them the freedom to experience Nature's healing, even during this time of indoor isolation.
If it's impossible to physically get outdoors, bring Nature within. We often suggest placing a green plant on your desk, so that your eyes can take a break from the computer screen and focus on a natural object. This helps boost your Liver Qi, which filters EMF radiation and daily stress. While home is now the workplace for most, bringing a plant indoors, or having a clear view of a plant through a window, is a great way to reduce stress and give both your mind and body a much-needed break.