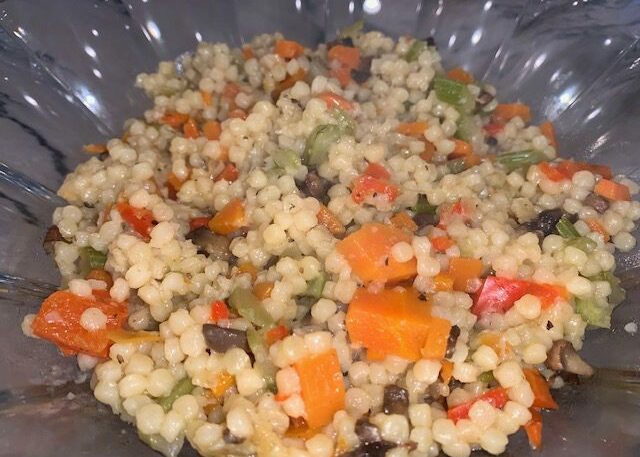 This time in quarantine has opened up a new realm of cooking. Kids are home all day long and the kitchen is rarely, if ever, closed. To top it off, those who have been able to score a select grocery delivery spot are opting out of heading to the store, and making the best of what arrives at their doorstep, even if limited. Others among us are choosing to be a bit creative with what we have at home, whether fresh, frozen or shelf-stable.
Over the next few weeks, we'll share some great recipes that require only a handful of ingredients. And the really great part? The ingredients in these recipes can be easily substituted with others you may have on hand.
This week's Quarantine Cooking recipe: Veggie Couscous!
Delicious and ultra-versatile, this dish elevates the last few veggies in your fridge to a new level. Use this recipe as a jumping off point and get creative! Follow the suggestions below for ingenious ways to turn this yummy dish into a family favorite.
Ingredients:
olive oil
3 cloves garlic, diced
8 cremini mushrooms, chopped
1 stalk celery, diced
2 carrots, peeled and diced
1/4 red bell pepper, diced
1 Tablespoon butter
1 1/2 cups pearl couscous
3 cups water
Salt and pepper, to taste
Directions:
Warm a saute pan. Add olive oil, garlic and mushrooms. Cook down about 5 minutes, until liquid releases from the mushrooms.
Add the remaining vegetables and mix, adding salt and pepper to taste.
When the vegetables are almost tender, add the butter. Allow the butter to melt and mix. Then add the couscous and mix again until the pasta is coated.
Add the water and loosely cover. Bring to a low boil and reduce the heat to low.
Continue cooking for about 20 minutes, until all of the water has been absorbed.
Season to taste. Garnish with fresh herbs, such as basil or scallions, optional.
TCM Tips:
Our popular Dragon's Way Qigong® program features a plant based eating-for-healing plan. In DWQ, we look at how the essence of certain foods supports varying organ systems. In this dish, celery, mushrooms and carrots are associated with the Earth element, and help sooth your Stomach function. Red pepper supports your Heart Qi.
Easy Substitutions:
Not a fan of couscous? Simply substitute an equal amount of farro, long grain rice, wild rice or quinoa.
Since we are dicing the vegetables, this recipe only requires very small amounts of each vegetable. If you don't have one (or all) of the vegetables, don't fret! Simply add what you have, fresh or frozen.
Want a crunchy twist? Roughly chop a handful of toasted peanuts or almonds as garnish.
Looking to make this dish a bit more filling? Scramble an egg over the top of the couscous right before serving.
More Tips:
Click here to read Minimalist Cooking for tips on how to cook a delicious and healthy meal with what you have available at home.
Click this link
to listen to daily podcasts from the past few weeks from Grand Master Nan Lu. As you listen to his words, delve deeper and connect to the hidden messages contained within.