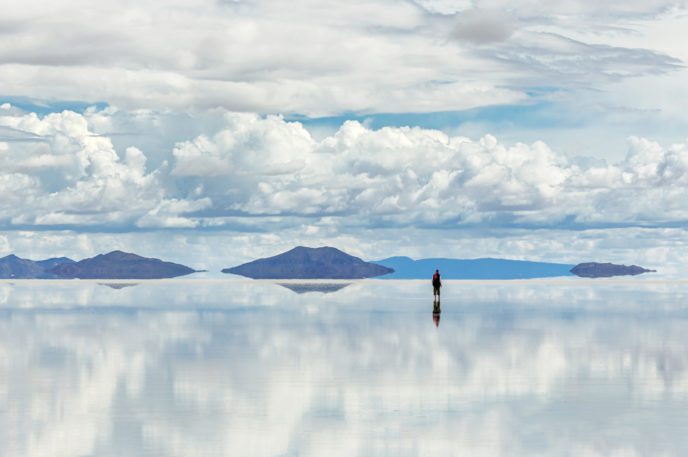 In our Dragon's Way Qigong programs, we stand in a powerful posture called The Dragon Stands Between Heaven and Earth. As we are readily aware of our presence on this Earth and our role in Nature, this posture connects us with all that exists above and below.
Dragon's Way Qigong was designed to follow the ebb and flow of Nature. As Nature transitions from season to season, so to do we. All that swirls around and within us is Qi, or vital energy. The Dragon Stands Between Heaven and Earth is our antenna to connect to this living and breathing energy. As such, it is fitting that there is a location on this planet known as "the border between Heaven and Earth".
Bolivia's Salar de Uyuni is the world's largest salt flat created when water from prehistoric lakes evaporated long, long ago. During its rainy season, nearby lakes overflow, sending a thin layer of water that covers the salt. Salar de Uyuni becomes a mirror that reflects both above—the changing sky in all of its glory—and below—the viewer's own reflection. Salar de Uyuni is a reminder that we are one piece of the changing portrait of life.
Begin your own life-changing practice. Join an upcoming Dragon's Way Qigong program today!