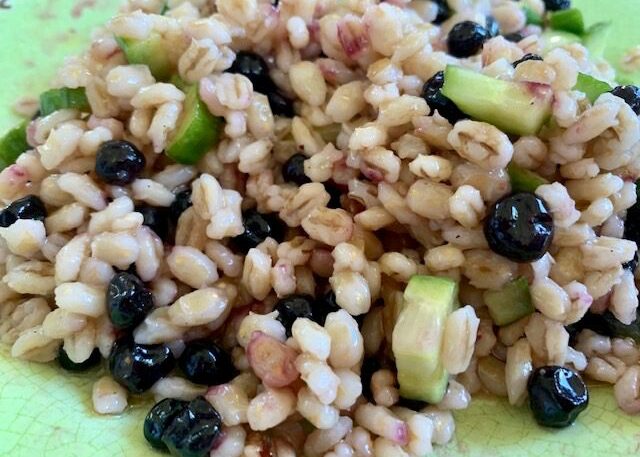 This time in quarantine has opened up a new realm of cooking. Kids are home all day long and the kitchen is rarely, if ever, closed. To top it off, many who have been able to score a grocery delivery spot are opting out of heading to the store, and making the best of what arrives at their doorstep, even if limited. Others among us are choosing to be a bit creative with what we have at home, whether fresh, frozen or shelf-stable.
Now that the quarantine has been lifted in some areas of the country, stores are beginning to reopen their doors and a bit of "pre-Covid" life is returning, albeit a very small bit. However, in the kitchen, the same rules apply—use what you have, and be mindful of not wasting—an important lesson (or reminder) the pandemic has left us with. The recipe that follows requires only a handful of fresh ingredients. And the really great part? The ingredients can be easily substituted with others you may have at home.
This Week's Quarantine Cooking Recipe: Summer Blueberry Farro Salad
A chewy, nutty grain, farro is extremely versatile. Cooked with apples and cinnamon, warm farro is a great way to start the day. Farro is also delicious served alongside baked fish or as the featured flavor in a light, yet satisfying summer salad.
Ingredients:
1 1/2 cups farro, rinsed
3 cups water
1/3 cup olive oil
3 Tablespoons apple cider vinegar
1 1/2 Tablespoons honey
freshly ground salt, to taste
freshly ground pepper, to taste
3 small cucumbers, quartered and sliced
1 cup dried blueberries
Directions:
In a medium saucepan, combine the farro and water. Bring to a boil, then cover the pot and reduce heat to a simmer. Let cook until the water is absorbed and the farro is tender, about 30 minutes. Place the cooked farro in a bowl to cool.
Meanwhile, make the dressing: Add olive oil, apple cider vinegar, honey, salt and pepper to a jar. Cover tightly and shake until the dressing is combined.
When the farro is at room temperature, add the cucumbers and blueberries. Mix gently. Drizzle the dressing over the salad and mix to combine.
TCM Tips:
The Liver is the organ system most affected by stress. Cucumbers, with their viny growth pattern, and apple cider vinegar, with its sour flavor, support healthy Liver function. Honey and blueberries give the salad added sweetness and offer the digestive system an energetic boost.
Easy Substitutions:
No farro at home? Simply replace with an equal amount of barley, orzo or pearled couscous. While dried blueberries can be purchased at Trader Joe's or Whole Foods, dried cranberries or currants can be used as a replacement.
Go Beyond!
Click here to read Minimalist Cooking for tips on how to cook a delicious and healthy meal with what you have available at home.
Learn more about how stress affects the body. Click here: The Body Never Lies: Stress.