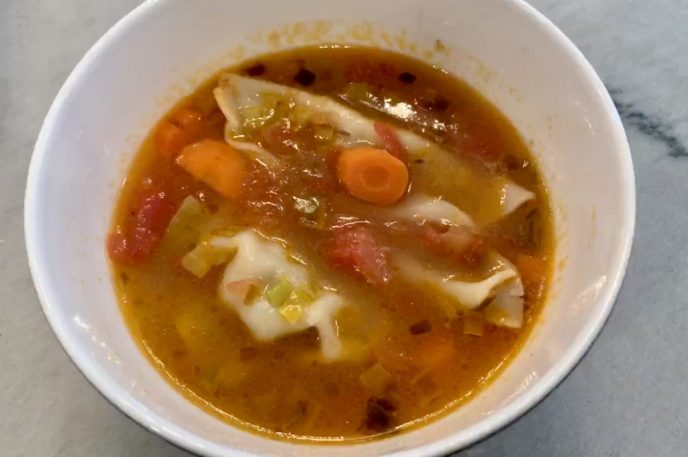 This time in quarantine has opened up a new realm of cooking. Kids are home all day long and the kitchen is rarely, if ever, closed. To top it off, those who have been able to score a select grocery delivery spot are opting out of heading to the store, and making the best of what arrives at their doorstep, even if limited. Others among us are choosing to be a bit creative with what we have at home, whether fresh, frozen or shelf-stable.
Over the next few weeks, we'll share some great recipes that require only a handful of ingredients. And the really great part? The ingredients in these recipes can be easily substituted with others you may have on hand.
This week's Quarantine Cooking recipe: Quick Vegetable Soup!
Who doesn't love a delicious bowl of soup? This recipe can be on the table in less than 10 minutes. Add whatever ingredients you have on hand. For a more hearty meal, serve with a side of roasted potatoes.
Ingredients:
1 Tablespoon olive oil
1/2 leek, diced
salt and pepper, to taste
2 stalks celery, roughly chopped
3 carrots, peeled and roughly chopped
1 tomato, roughly chopped
1 teaspoon mushroom powder
1 Tablespoon miso paste
8-10 vegetable wontons
Directions:
Heat the olive oil in a medium sized pot. Add leeks, salt and pepper. Mix well.
Add all of the vegetables and mix, allowing the carrots to slightly soften.
In a separate bowl, dissolve the miso paste in 4 cups boiling water. Add to the pot.
Add the mushroom powder to taste, seasoning as needed.
Reduce the heat and add the vegetable wontons. Allow to simmer 5 minutes, or until the wontons are cooked through.
TCM Tips:
Soup is a wonder food, no matter the ingredients. Warm, cooked foods are more easily digested than cold, raw foods. Serve the family a nice, comforting bowl of soup for lunch. Or double the recipe and have enough for the week.
Easy Substitutions:
All veggies in this dish are easily customizable. Don't have carrots or tomato on hand? Substitute zucchini and red pepper. Prefer a heartier dish? Add 1/2 cup cannellini or black beans.
No leeks in the fridge? Easily substitute 1/2 white or yellow onion or 2 cloves garlic. Prefer a milder taste? Omit entirely and garnish your soup with a few chopped scallions.
Not a fan of miso? Simply leave it out. Both the miso paste and mushroom powder lend a deeper flavor to soups. Instead, 2 cups water and 2 cups vegetable broth as your base.
Prefer tortellini to wontons? Give it a go. Want to substitute cooked fish or chicken for the wontons? Why not! Be creative and see what you come up with!
More Tips:
Click here to read Minimalist Cooking for tips on how to cook a delicious and healthy meal with what you have available at home.
Click this link
to listen to daily podcasts from the past few weeks from Grand Master Nan Lu. As you listen to his words, delve deeper and connect to the hidden messages contained within.