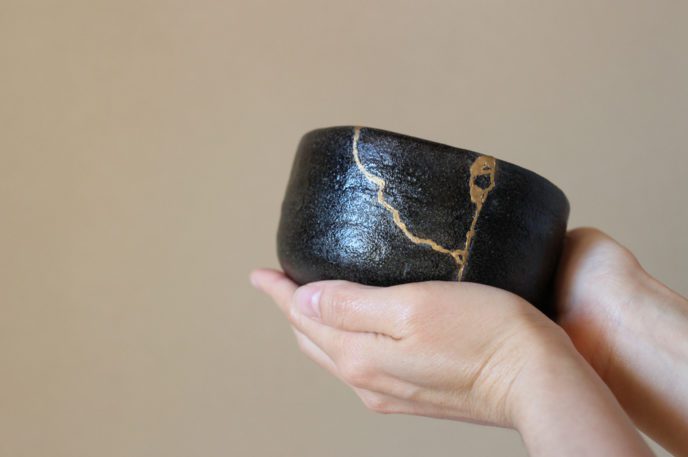 Part of being human is understanding that we all have innate flaws.
Whether we attribute these flaws to growing pains, learned behaviors or personality traits, we all have them. But flaws are not necessarily "bad" things. Instead, they help us to grow and develop into the miraculous humans we were born to become.
Life is not perfect. It's not a clean path that we skip along, whistling a tune while birds chatter nearby. This vision, although idyllic, is something we have grown accustomed to comparing our everyday lives to. If we don't match up to the "perfect life", we often see ourselves–our lives, our children, our jobs–as less than perfect. This is far from the truth! Life is not perfect. It is messy, awkward, frazzled and noisy. It unfurls us, throws us and leaves us in awe. Life is perfectly imperfect. In looking at our flaws–our breaks–we learn that there is beauty in the everyday routines and mundane schedules. There is joy in the muddy socks and messy beds. And there is love amidst the heartbreak.
The Japanese culture celebrates flaws. It looks upon broken items as an opportunity for rebirth. Instead of hastily sweeping up pieces of a broken vase, mug or plate and discarding them, the ancient art of Kintsugi breathes new life into these items, studying them, understanding them and mending their cracks with gold or silver. The resulting pieces are transformed into something even more beautiful than their original forms. They are stronger, more beautiful and more resilient.
If broken ceramics can be mended with gold or silver and become more valuable than before, what does that say about our flaws–our breaks?
If you were to picture your life as a 6-foot vase, there would surely be many cracks. Some would be deep and others shallow. Some would barely stretch an inch, while others would reach across the entire vase. Regardless of our paths in life, we all endure cracks. The ones that leave us broken become stories that–when we're ready to let them go–can be mended with gold. These experiences help us to grow. They make us stronger and more resilient. And in growing and learning, these mended cracks make us more beautiful. Instead of letting the painful broken spaces define us, we fill our cracks with gold and become whole.