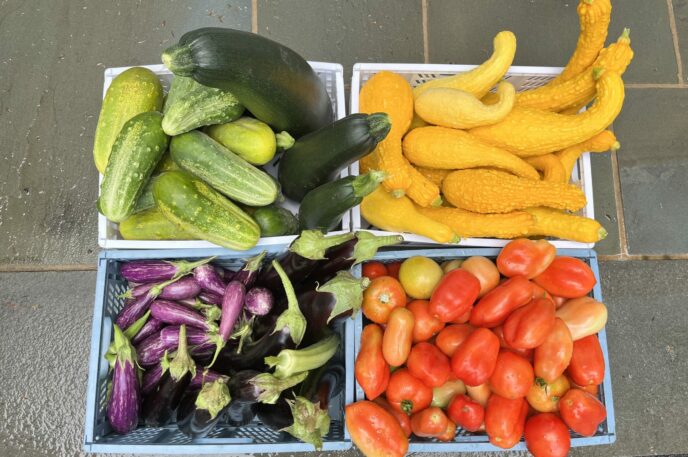 Late Summer is the perfect time of year to reap the bounty of your backyard or local farmer's market harvest. Eating food that is locally grown and in season will help you to connect with the vibrant energy that surrounds us at this time of year.
This modern take on a classic vegetable paella combines rich flavors and beautiful colors that will invite everyone to the table. The beauty of this dish is its versatility. Give yourself the creative freedom to experiment by substituting the veggies you have on hand and playing with the levels of heat. If you don't have couscous, substitute pearled barley (requires more water and a longer cook time) or a different type of pasta. Or omit the starch all together! Simply season the vegetables as shown here and pop them into a corn tortilla with a squirt of fresh lime. The options are endless!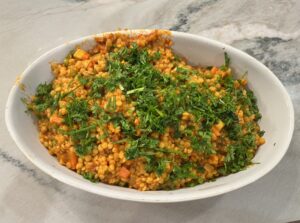 Late Summer Vegetable Couscous
2 Tablespoons olive oil
4 large carrots, chopped
1 zucchini, chopped
1 yellow squash, chopped
3 cloves garlic, diced
2 cups pearled couscous
1 teaspoon mushroom seasoning
3 teaspoons taco seasoning
2 teaspoons saffron threads, crushed
Freshly ground salt and pepper, to taste
2 1/2 cups hot water mixed with 3 Tablespoons tomato paste
1/2 cup frozen peas
Parsley or chives, chopped, for garnish
Directions
Heat a flat-bottomed cast iron skillet over medium heat. Warm the olive oil. Then add the carrots, zucchini, and squash. Saute 2-3 minutes and then mix in the garlic.
Add the couscous to the skillet, and mix to coat. Add the seasonings and mix again. Let sit over medium heat for 1-2 minutes. Then add the tomato-flavored water to the skillet and mix to loosen the couscous from the bottom of the pan. Bring to a simmer and cook over low heat until the water is absorbed. Add the peas and mix to incorporate.
Top your finished dish with fresh parsley and serve. This dish can be served as a main dish on its own or as a side dish when paired with grilled fish or fish tacos. It also reheats nicely.
Continue to Eat for Healing
This is just one possible dish you can create with the food you've harvested. What else can you come up with?
Click here for recipes to inspire you all year long.
Have you begun your Qigong journey? Join us at an upcoming event or discover a Dragon's Way Qigong® class in your area!