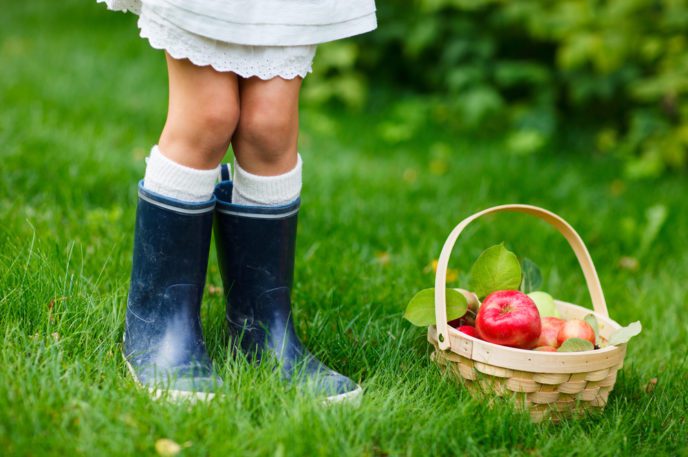 At the spiritual level, food is connected to the loving consciousness of the Universe. So are we!
Human beings and food can automatically connect through the dynamic energy of the quantum field. If we are open to it, we can communicate with food's Qi. Why? Because we ourselves are also Qi. Modern science tells us that everything is energy. When we use food wisely to strengthen metabolism function, we connect to Nature's powerful healing elements.
Think about the way in which an apple tree grows. During its many months of growth, most varieties of apple trees need to spend 500-1,000 hours below 45°F. If this does not happen, the fruit may not emerge. Some apple trees can even thrive in -20°F. Imagine how much energy you would expend just to stay alive if you were stranded in sub zero temperatures. You would have to be pretty strong. Because of their Warm essence, apples possess this kind of Qi and can grow in this kind of climate. The apple tree has its own purpose to achieve in this reality besides feeding us. Apple trees meet the requirements of Natural Law. When you eat an apple, it can help you rebalance yourself with its essence, as well as connect to certain elements you may be missing.
We can use the Five Element energetic framework to understand food's impact on our bodies, especially for protecting and enhancing metabolism function. In TCM, pears have received the message from Nature that they are related to the Metal element, which helps support Lung function. Pears "understand" they carry the message of the Metal element and know they belong with the Lung. If the Metal element—your Lung and Large Intestine—are out of balance, eating pears can support their relationship. So can almonds.
To use food as medicine, TCM practitioners divided plants, animals and minerals into various categories more than five thousand years ago. The categories relate to their element, taste, color, frequency, the physical location where they lived, and more. For instance, food grown in the mountains is different from food grown in the desert. TCM understands color is a vibration or energy frequency that can heal. TCM uses green foods like broccoli rabe or scallions to support the function of the Liver, the organ associated with the color green. It uses red foods like strawberries and watermelon to nurture the Heart, yellow foods like corn to strengthen Stomach function, white foods like lotus root to help the Lung, and black foods like black beans to boost Kidney function. Look at the Five Element energetic framework to see these color correspondences.
TCM understood taste as a healing frequency as well. So, practitioners use sour, bitter, sweet, spicy and salty tastes to rebalance the body. Ancient energy masters even perceived certain parts of plants that could help certain parts of the body. Much of this priceless knowledge has been passed down over thousands of years and is still in use today.
Excerpted from Grand Master Nan Lu's book, Digesting the Universe: A Revolutionary Framework for Healthy Metabolism Function.