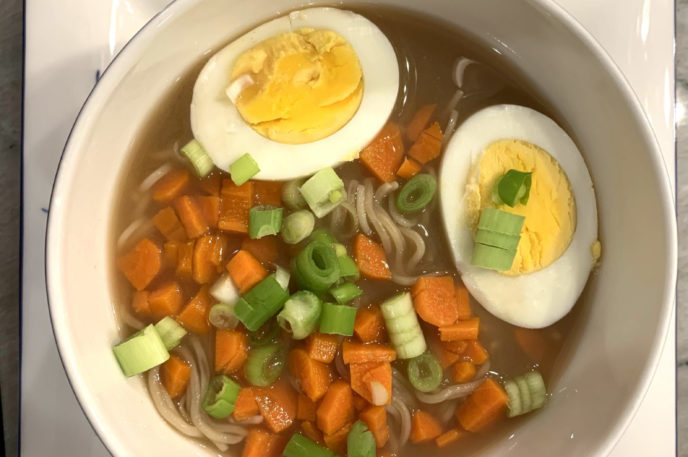 Ramen noodle shops are popping up all over. This light-yet-hearty, casual-yet-sophisticated meal has transformed from the inexpensive, packaged kit many of us relied on in our college days to a warming dinner with rich umami flavor. But constructing a ramen noodle bowl is actually rather simple, and it makes for a fun dinner that can be customized to meet the needs and tastes of everyone sitting around the table.
Make-Your-Own Ramen Bowls
8 cups water*
1/4 cup miso paste*
4 dried packs of rice ramen noodle
Customizable Toppings (Use any of the following, or customize according to your tastes):
4-6 eggs
4 carrots, peeled and finely chopped
2 scallions, chopped
1 cup frozen corn
1 cup leftover chicken, shredded
Other fun additions: pickled ginger, tamari, siracha, crunchy noodles, dried wakame (seaweed)
* For a simpler solution on a busy weeknight, use a ready-made broth, such as the Miso Ginger Soup base from Trader Joe's.
Directions
Bring the water to a boil. Dissolve the miso paste into the water, or use a packaged broth.
Meanwhile, bring a small pot of water to boil. Gently add the eggs and lower the heat. Allow to cook at a simmer for 8 minutes. Remove the hard boiled eggs from the pot with a slotted spoon and place on a plate to cool. When cool, rinse and remove the eggshells. Slice in half vertically and place on a small serving plate.
Using the same small pot, steam the carrots until they are tender. Remove and place in a small serving bowl. Then quickly cook the corn until defrosted. Remove and place in a small serving bowl. Place the scallions and chicken (as well as other chosen toppings) into serving dishes.
Add the ramen noodles to the boiling soup base. After 1 minute, use a fork or chopsticks to gentle separate the noodles. Use a large, slotted spoon to remove the noodles from the pot after 2-3 minutes. Place the noodles in a serving bowl.
Spoon the miso base into individual bowls, add noodles, and invite everyone to customize their own!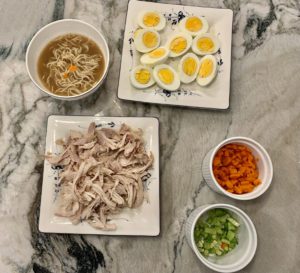 Keep Cooking!
For more soup recipes, check out the bank of recipes on our website.
Bone-chilling weather heading your way? Soup is our go-to food for Winter. Find out why!