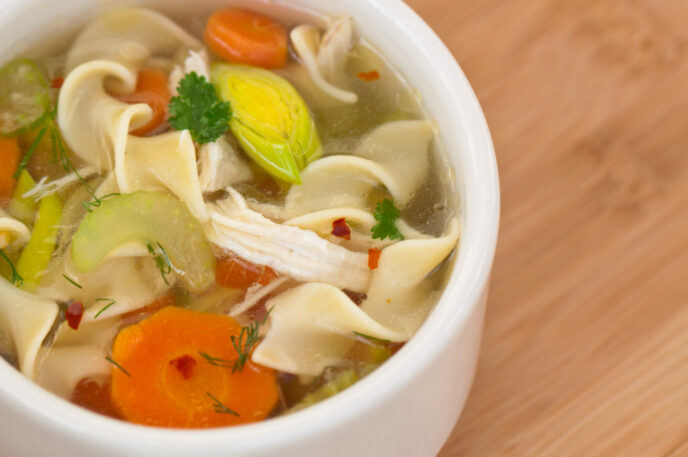 Soup, it's what's for dinner.
Nothing is more satisfying on a cold evening than a warm bowl of soup. It checks off every box: comforting (made with love), warm (perfect to fend off Winter's chill) and homemade (took hours and hours to make…or so they think!).
Here, we share a few stellar (and under 30-minute) homemade soup recipes to delight the taste buds without tons of effort. After all, you don't need to spend hours in the kitchen to cook up a masterpiece. If you don't have some of the ingredients in the recipes, don't fret! Instead, allow yourself the creativity to explore your fridge, freezer and pantry. Make simple adjustments or replacements to customize these soups to your liking.
RECIPE ONE: Chicken Noodle Soup (with or without the chicken!)
Ingredients:
1 Tablespoon olive oil
1 onion, chopped
2 cloves garlic, minced
salt and pepper, to taste
4 large carrots, chopped
4 stalks celery, chopped
1/2 teaspoon each dried or fresh herbs (thyme, oregano, parsley)
8 cups broth (chicken or vegetable)
2 cups cooked chicken, shredded, optional
1/2 cup noodles, such as ditalini, small shells, or egg noodles
Directions:
Place a large pot over medium heat. Add the olive oil, onion and garlic, and season with salt and pepper. When the garlic is fragrant and the onions are translucent, add the chopped vegetables and the herbs and stir to coat. Sauté for 5 minutes. Then add the broth and cook for about 10 minutes. When the carrots are fork-tender, add the chicken meat (optional) and the noodles. Boil the soup for about 12 minutes, or until the noodles are cooked through. Season with additional salt and pepper (optional) and serve.
RECIPE TWO: Ginger Scallion Udon Noodle Soup
Ingredients:
1 Tablespoon grapeseed oil
15 scallions, whites and greens diced
1″ piece of ginger root, finely diced
2 cloves garlic, finely diced
6 cups bone broth
6 mushrooms, thinly sliced
4 ounces udon noodles (or spaghetti)
1 teaspoon rice wine vinegar (or white vinegar with a dash of sugar)
2 teaspoons soy sauce
1 teaspoon toasted sesame oil
salt, to taste
1/2 teaspoon fresh cilantro, chopped
Directions:
Heat the oil in a large saucepan. Add the scallions, ginger and garlic. Stir to combine. Then add the broth and bring to a boil. Add the noodles and boil for 2 minutes, or until tender. Add the mushrooms and stir the soup briefly.
Remove the saucepan from the heat. Stir in the rice wine vinegar, soy sauce and sesame oil. Add salt to taste. Garnish with fresh cilantro.
RECIPE THREE: Egg Drop Soup
Ingredients:
3 cups water
1 Tablespoon olive oil
1 teaspoon salt
1 small white onion, chopped
2 medium tomatoes, chopped
1 teaspoon mushroom powder
2 Tablespoons sweet potato starch
1 egg, beaten
1/4 fennel diced (or 3 scallions, diced)
Directions:
Bring 3 cups of water to a boil in a pot. Meanwhile, heat the wok over high heat. Add oil, salt and the chopped onions. Sauté for 30 seconds. Then add the tomatoes and sauté for 1 minute, or until the tomatoes begin to break down. Add the boiling water and allow the vegetables to boil for about 3–4 minutes. Add the mushroom powder and stir.
In a separate bowl, combine sweet potato starch with 2 Tablespoons of water until dissolved. Slowly stir this mixture into the boiling soup and mix while the soup thickens. Then drizzle the beaten egg into the boiling water. Mix. Add the diced fennel (or scallion). Serve immediately.
Need a tutorial? Watch Grand Master Lu cook up his famous egg drop soup!
Like these recipes? Join us!
Grand Master Lu holds four seasonal cleanses throughout the year to help you transition—body, mind and spirit—into the coming season. Register for our warming, Qi-enhancing Winter journey from January 15-22, 2023.