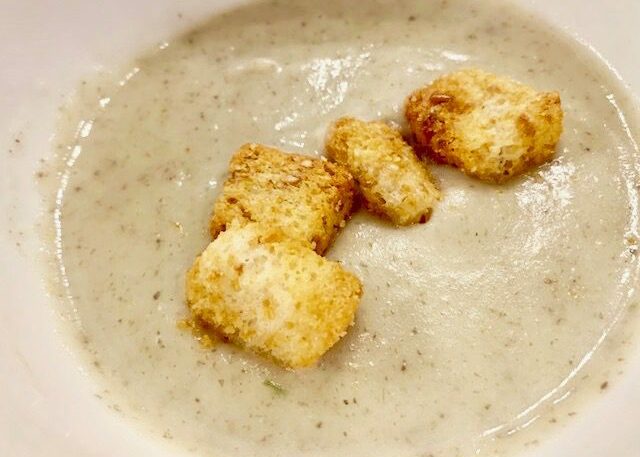 This time in quarantine has opened up a new realm of cooking. Kids are home all day long and the kitchen is rarely, if ever, closed. To top it off, those who have been able to score a select grocery delivery spot are opting out of heading to the store, and making the best of what arrives at their doorstep, even if limited. Others among us are choosing to be a bit creative with what we have at home, whether fresh, frozen or shelf-stable.
Over the next few weeks, we'll share some great recipes that require only a handful of ingredients. And the really great part? The ingredients in these recipes can be easily substituted with others you may have on hand.
This Week's Quarantine Cooking: Potato Leek Soup!
Although it's technically already summer according to the traditional Chinese lunar calendar, a lingering chill remains in the air. What better way to warm the bones than with a delicious bowl of soup. And with only one pot to clean, this meal checks every box!
Ingredients:
2 Tablespoons olive oil
2 large leeks, whites and light greens only, washed and chopped
8-10 baby portabello mushrooms, washed and chopped
salt and freshly ground pepper, to taste
1 teaspoon mushroom seasoning
6 large russet potatoes, peeled and roughly chopped
6 cups of broth or water

1/2 cup whole milk
Directions:
Melt butter in a large stockpot over medium heat. Add the olive oil, leeks, mushrooms, salt, pepper and mushroom seasoning. Stir to combine. Saute for 5 minutes.
When the mushrooms have begun to cook down, add the potatoes and stir to coat. Add the broth or water and bring to a boil. Cook until the potatoes are fork tender. Then remove from heat.
Add the milk to the pot and puree with a stick blender until the soup is creamy and smooth. Add additional salt, pepper or mushroom seasoning to taste.
TCM Tips:
Potatoes and mushrooms grow under the ground, and therefore connect to the Earth element and the Stomach/Spleen. Leeks support the Liver and help to remove heat in the Stomach. Foods served at a warm temperature also aid in digestion.
Easy Substitutions:
There are many ways to make potato leek soup! No mushroom fans in the house? Get creative and add some roasted cauliflower or broccoli before pureeing. Your picky eaters will be none the wiser.
More of a purist? Keep it simple and just stick to potatoes and leeks. Here's a simpler recipe to give a whirl.
For some added crunch, top each individual bowl of soup with garlic croutons or toasted pine nuts.
More Tips:
Click here to read Minimalist Cooking for tips on how to cook a delicious and healthy meal with what you have available at home.
Join Grand Master Nan Lu every morning at 9am! The focus of this series is: The Body Never Lies. To access the calls, visit grandmasternanlu.com and register for free. We look forward to having you in our circle.