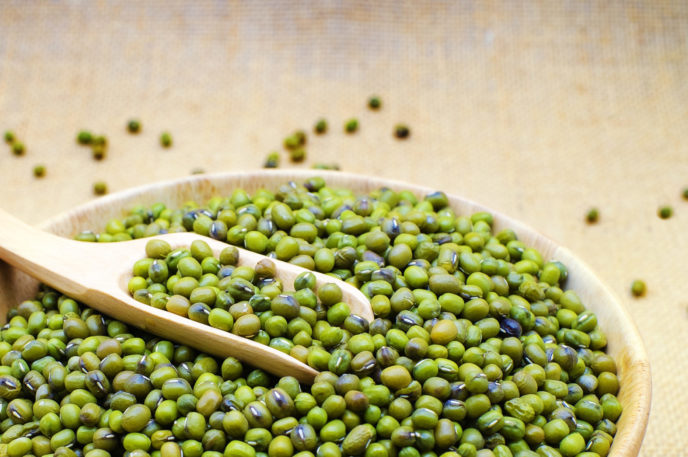 Despite their humble appearance, these funny little green beans have been revered for their medicinal and culinary virtues for thousands of years in China and Southeast Asia. Mung beans are one of the most powerful foods that benefit your health all-around. They're famous for their ability to detox your body, clear up your skin, lower your blood pressure and cholesterol, cool inflammation, and even help you lose weight.
Eaten on a consistent basis, mung beans can prevent and address serious chronic diseases such as cardiovascular disease, diabetes, cancer, stroke, osteoporosis, and obesity. Their ability to fight inflammation and detox the body is so tremendous that health experts even recommend them for sepsis, burns, pesticide or lead poisoning, food poisoning, and alcoholism.
For an easy, effective dietary change to promote life-long good health, we recommend making mung beans part of your regular diet. They can be prepared, sweet or savory, throughout the year.
Not sure as to how to make these little guys tasty? Soak, then cook a large batch in boiling water for about 40 minutes, until al dente. (Save the liquid to drink as a refreshing detox tea, sweetened with raw honey.) Incorporate the cooked beans into any recipe as a substitute for beans or lentils (they make a fabulous hummus, dahl over rice, fritters, and "lentil" soup). You can even toss a handful of cooked beans into your morning oatmeal or try eating them as a hot and sweet soup — this simple recipe below is great as a breakfast treat or a guilt-free, nutrition-packed dessert.
CREAMY COCONUT MUNG BEAN PORRIDGE
1 cup mung beans (pre-soaked for 3-5 hours)
4 1/2 cups water
1 2-inch piece of ginger
cinnamon stick
1 cup unsweetened coconut milk
1/2 cup of honey or sugar (add more to taste)
1/4 teaspoon salt
1 teaspoon vanilla extract
DIRECTIONS
Rinse the mung beans well, then add to a pot with water, cinnamon stick, and ginger. After bringing it to a boil, reduce heat to simmer. Cook for about 40 minutes or until beans are tender, but not mushy.

Add salt, sugar, and vanilla extract. Simmer until sugar is dissolved.

Stir in coconut milk until heated through, being careful not to overcook. Serve warm.
Want to Learn More?
Discover all that mung beans have to offer: