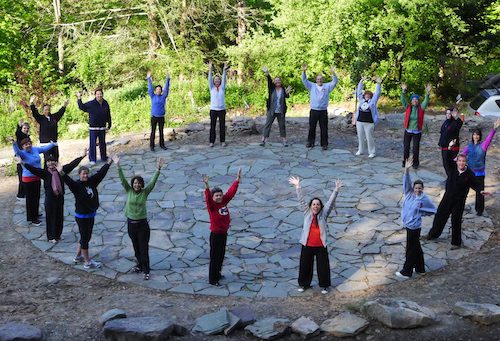 After nine years of being chronically and severely fatigued, I was desperate enough to entertain thoughts of going into the woods with a "medicine man" who would throw a chicken over my head or give me the eye of newt to wear around my neck! While this, in reality, was never actually planned, it reflected the desperation of a woman who, in the literal words of civil rights activist, Mrs. Fannie Lou Hamer, was "sick and tired of being sick and tired."
The interesting thing about my "chronic fatigue" experience is the fact that most people could not "see" or "hear" it. While I consider myself to be an articulate and learned woman, Western trained physicians could not, or would not, understand my descriptions of the fatigue-induced turmoil in my life.  I travelled far and near in search of the person, the potion, the notion of a cure, or even just relief. I sought the help of both local practitioners and so-called experts, all with the hope of feeling better. Nothing helped more than temporarily.
As you must suspect, this story has a wonderful next phase. And if you are reading this post here, then you know The Dragon's Way and TCM have played major roles in the grand healing journey that I have undertaken and continue to make. During a year of discovery and recovery, I began formal TCM consultations with Dr. Nan Lu, creator of the Dragon's Way program. I knew I was at the right place, at the right time, with the right practitioner, when he exclaimed that getting better was "a piece of cake." I came to understand that getting healthier was possible and that we were on our way to uncovering the depletions, stagnations and imbalances underlying my "chronic fatigue."
Fast-forward past these initial consultations: I eventually found myself being led to The Dragon's Way instructor training. Conversations with TCM World senior instructors, Elaine, Irma, and Deborah, revealed another layer of confidence, encouragement and support that I could and would feel better. Needless to say, they were accurate in their assessments. As I learned to perform gentle Qigong movements, with Irma's expert and elegant assistance, I began to feel more shifts in my body and increased energy. My flexibility improved, and my body released many aches and pains as well as some pounds. It was a huge deal to even have enough energy to finally clean out a closet! I came to realize that the body-mind-spirit connection is not an illusory concept; it is real, and forms a foundation for my (and countless others') continued growth and healing.
So here I am, still a "work in progress" while feeling stronger and in possession of tools that continue to support my goals and journey to renewed health and improved energy. I have learned the importance of resting to preserve my Qi and how to build it. If I were asked about this journey, I would sum it up by saying; feeling better is "a piece of cake," thanks to the centuries-old tenets of Traditional Chinese Medicine via The Dragon's Way!
– By Ann Wood Washington, Dragon's Way Instructor, Class of 2011