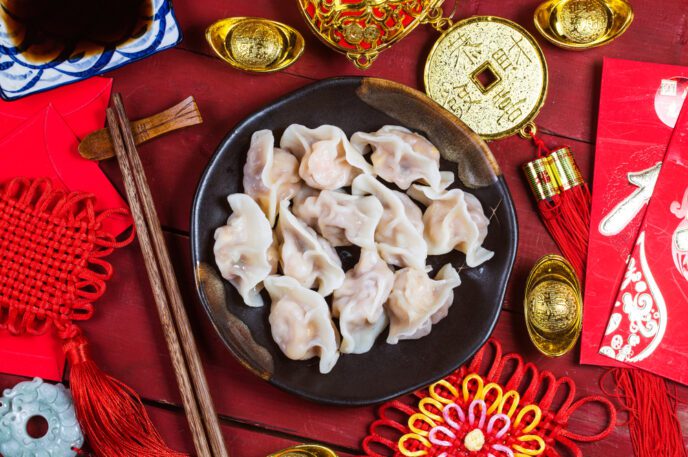 There are many ways to cook a dumpling. There are equally as many ways to fill one. Each of these fillings and types of preparation hold different meanings in Chinese culture. But whether fried, boiled, baked, or steamed, dumplings are an important part of ringing in the Lunar New Year.
Dumplings are made of pasta-like sheets, filled with vegetables, meat, seafood, or a combination of the above, pinched on the ends, and rolled into crescent shapes. The shape is reminiscent of ancient Chinese currency—ingots—which means "luck and fortune". Therefore, eating dumplings signifies good luck—a tradition that has been around for about 1,800 years.
The tradition is said to have begun with Zhang Zhongjing, a Chinese physician known as the 'Saint in Medicine'. As the story unfolds, Zhang noticed that the cold winters left many homeless people starving and with painful, frostbitten ears. He cooked mutton in warming herbs used to promote blood flow. Then he chopped the ingredients and placed them in a dough wrapper. After folding the dough into the shape of an ear, he boiled the "Jiao'er" as he called them, and gave two along with a bowl of soup to each patient. Zhang distributed his dumplings daily from Winter Solstice to New Year's Eve. During the age of typhoid fever, all of Zhang's patients stayed healthy and were able to heal from their frostbite.
So, to remember Zhang's kindness and to celebrate his legacy, many families make dumplings together on Lunar New Year's Eve. They stuff, roll, pinch, and boil. Then they share the dumplings at midnight, to usher in the New Year. The dumplings are eaten throughout the entire two-week-long New Year celebration to signify wealth and luck to last the entire year.
Spring rolls are another food eaten during the Lunar New Year to bring about prosperity. The wrappers are often filled with vegetables, meat, or fish, and then rolled and deep fried to a golden crisp. Whether dumplings or spring rolls, the fillings carry symbolism for luck, health, and prosperity throughout the New Year.

Dumpling or Spring Roll Fillings:
Cabbage and Radish: long-lasting love and a gentle mood
Beef: good luck and economic prosperity
Leeks: health, peace, joy, and wealth
Mushrooms: wealth, progress, and success
Fish: wealth and health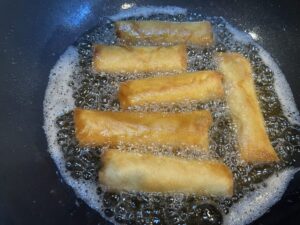 Homemade Spring Rolls!
Enjoy this fun video of Elaine, Tatiana, Irma, Deborah, Alicia, and Grand Master Lu making good luck spring rolls!