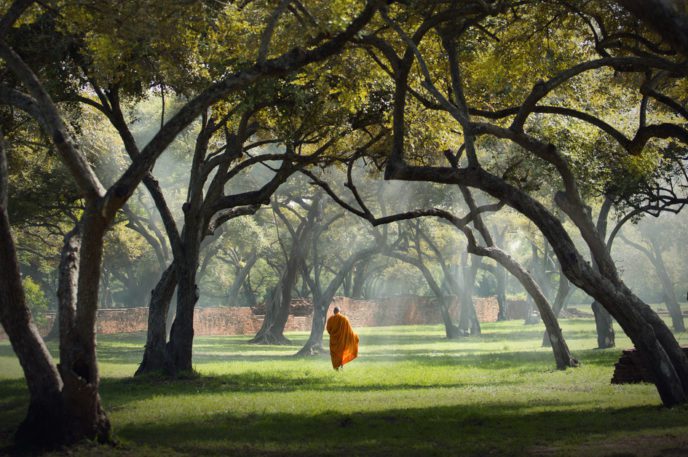 At Traditional Chinese Medicine World Foundation, we believe that there is a reason for everything. And while it may be hard to see beyond the immediacy of the Covid-19 quarantine, this time spent in solace is bringing about some incredibly powerful messages. For the first time in a very long time, we are experiencing Nature's magnificence as it is meant to be seen, heard and felt.
Clear Vistas
Star-filled night skies are just the tip of the iceberg. In New Delhi, India, air quality levels measured a frighteningly high 150 in March of 2019. These levels plummeted to 45 in March of 2020. Due to closed factories, empty highways and grounded flights, fossil fuel burning is at an all-time low around the world. And as these levels drop, magical vistas unfold. The snow capped Himalayas, which hadn't been visible from northern India in over 30 years are the talk of social media channels worldwide. Landscapes once shrouded in yellow or orange haze has given way to breathtaking clarity. Skies are blue and stars shine bright.
Wildlife Returns
Coyotes, which freely roamed through the San Francisco Bay area in the 1900s, have again been spotted crossing the Golden Gate Bridge. Black bears, which usually live in the forests, have been spotted in downtown Acadia. And California is not alone. From North America to South America, and on most other continents, there has been a resurgence of wildlife. A jaguar was captured on film walking through the quiet downtown areas of Tulum, Mexico and a young puma was seen climbing city walls in Santiago, Chile, while gentoo penguins returned to the coast of South America.
Hundreds of sea turtles sat undisturbed on sandy beaches in India. Deer were found poking around subway stations in Japan and wild monkeys were spotted fighting over food in Thailand. Wild boars searched for food in the streets of Barcelona and Sardinia, and a herd of mountain goats were shooed along by police as they made their way through the empty streets of Llandudno, Wales. It seems that Nature has begun to reclaim its rightful place in all corners of the globe.
Looking Ahead
It's remarkable to see how humans affect their living environments. And even more incredible to grasp how Nature can begin to reclaim its glorious beauty in just a short period of time. While this temporary quarantine has allowed Nature to breathe life back into its creations, human life will once again resume its course. When it does, will we remember how to walk in harmony with Nature?
Want to Learn More?
Click this link
to listen to podcasts from the past few weeks from Grand Master Nan Lu. As you listen to his words, delve deeper and connect to the hidden messages contained within.