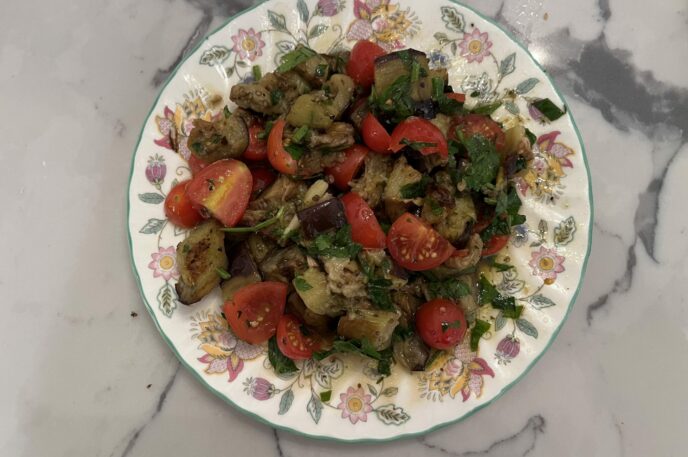 The temperatures are getting progressively colder as we near the coldest season of the year. On the surface, Nature is slowing down and preparing for a long Winter rest. During this time of year, it's important for us to deeply rest as well. But rest involves more than getting 8–9 hours of sleep per night. Eating for healing allows our digestive systems to rest as well, so the body doesn't need to work so hard to process the foods we eat.
Warm, roasted vegetables are a simple way to nourish your whole body throughout the Fall and Winter. Get creative and tweak the recipe below by using the veggies you have on hand. Try baking some crunchy chickpeas on the side—delicious!
Warm Roasted Eggplant Salad
1 large eggplant
salt, for soaking
1–2 Tablespoons olive oil
Sea salt, to taste
Freshly ground pepper, to taste
1 teaspoon oregano
1/4 cup fresh parsley, chopped
1 cup cherry tomatoes, halved
1 lemon, juiced
Directions
Heat the oven to 375.
Meanwhile, cut the eggplant into rounds and place into a large bowl. Cover the eggplant with a mixture of cold water and salt. Cover the eggplant with a plate or lid that is smaller than the circumference of the bowl, so the cover pushes the eggplant into the water.
After about 20 minutes, rinse the eggplant quickly and place on a clean kitchen towel. Pat the eggplant dry and cut into cubes.
Heat a large frying pan over medium heat. Add 1 Tablespoon oil and add the eggplant. Season with salt, pepper, and oregano.
Transfer the eggplant cubes to a baking sheet and place in the oven. Let cook for about 20 minutes, tossing 2–3 times.
Transfer the eggplant to a bowl with parsley, tomato, and the juice of one lemon. Add salt as needed.
Continue Your Eating-for-Healing Journey
Cold temps have you searching for soup? Just click here.
Eating warm and light is an integral part of our Dragon's Way Qigong® program. Learn more!