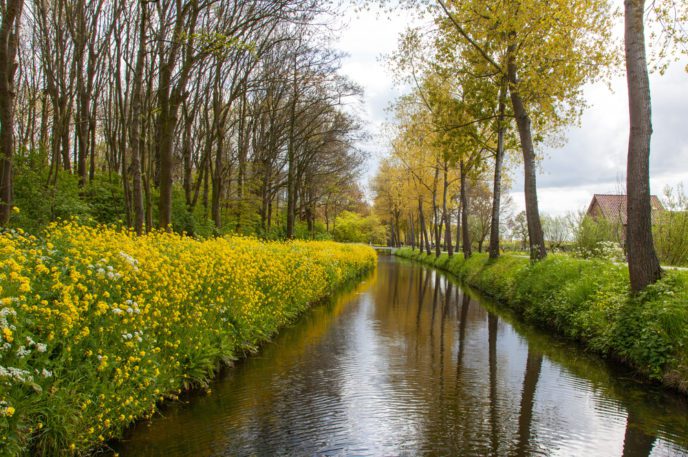 For those of us in the Northern Hemisphere, today is the first day of the Spring Vernal Equinox. Although the equinox heralds fall in the Southern Hemisphere, the phenomenon happens at the same exact moment in every location around the world. This year, the equinox occurs at 11:49PM EST. At this moment, daytime and nighttime are relatively equal, as both the Northern and Southern Hemispheres are receiving about the same amount of sunlight. This is just another tie that binds all of us humans to Nature and to the Universal charge.
During the first few weeks of Spring, the cold earth begins to awaken from many months of rest. Worms emerge from the ground and colorful buds blossom as the sun's warmth breathes them to life. Birds chirp overhead as they collect twigs and leaves to create nests for their eggs. Spring is a time of rebirth, growth, and new beginnings. It is a time to replace the gray barren landscape with light and color. Spring is rejuvenation in the truest sense of the word. The fascinating twist is that Spring doesn't just happen in the cosmos or outdoors in Nature—it happens within each one of us as well. You are connected to this great Universe and are part of its light and its power.
This year—2020—is no different. In fact, this year's events have been the perfect example of our intrinsic connections. While social distancing and fear over the Coronavirus spread has us isolated indoors, Nature has had time to reset. The water flowing through the port and canals of Venice is crystal clear as sediment that is continually churned up by boat traffic has had a chance to settle. Swans and dolphins have returned to the waterways, proving one thing—Nature always recovers.
Similarly, in China, the quarantine has closed factory doors, leading to a steep decline in smog levels and air pollution. Across the world, business are closed and more people are working from home. Vehicle emissions have dropped and traffic congestion in the world's busiest cities is exponentially lower. New York City, for example, dropped to 17% from 52% this same week in 2019, according to TomTom. Clearly, humans impact their surroundings. As the months go on and time has a chance to bring Nature back to its magnificent beauty, can we as a species learn to appreciate all of the gifts it provides us?
Join Our Virtual Practice
Join us for a virtual practice tonight at 11:49PM EST. Stand in silent meditation in the Qigong posture, The Dragon Stands Between Heaven and Earth, as we welcome in the creative new energy of the coming Spring season.