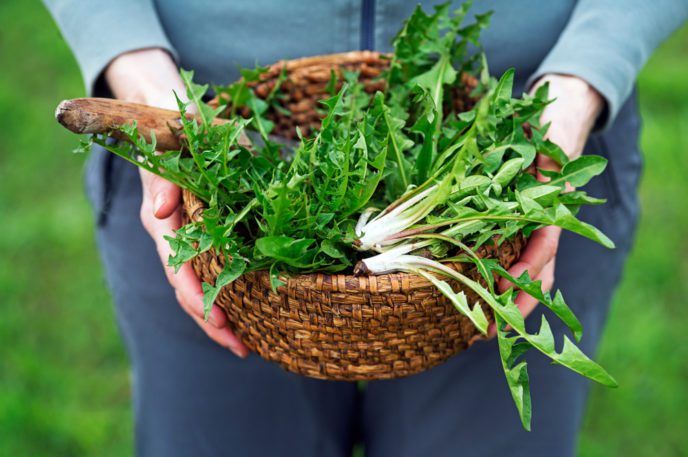 Have you stopped to think about what goes into a meal? Of course, there's the love and time it takes to prepare a meal. But the food itself contains energy—where it was grown, how it was grown and the messages it contains—comes through with every forkful.
Dandelion is a natural antibiotic that works to detox the body and support healthy Liver, Stomach and Heart function. Dandelion has many benefits on a chemical and physical level. However, even higher than that, on an energetic level, it carries a powerful message. Many people consider dandelion a weed and try to destroy it. But this plant keeps coming back. Dandelion contains information that makes it strong and powerful.
Always look to Nature for clues and support. These little greens are unstoppable in the garden and will do the same work within your body!
Dandelion Sauté
2 tablespoons olive oil
2 cloves garlic, chopped
1-2 bunches fresh dandelions, chopped
Pinch of salt
1/2 teaspoon mushroom powder (optional)
Juice of 1/2 fresh lemon (optional)
2 scallions, chopped (optional)
Heat a wok or deep frying pan. Add the oil and a pinch of salt. Then add the garlic and sauté for 2-3 minutes.
Add the fresh dandelion to the wok and toss until completely wilted.
Choose Your Own Adventure:
1. Turn your sautéed greens into a soup? Stop here and continue on to the recipe below.
2. Add some freshness to your sautéed greens? Taste your greens. If you like a richer flavor, sprinkle mushroom powder over your dandelion and mix around in the wok. Then remove from the heat and season with a squeeze of fresh lemon and scallions.
Turn your sautéed greens into a soup:
Dandelion Soup
Sautéed dandelion greens
Salt, to taste
Freshly ground pepper, to taste
Boil the potatoes in 3 cups of salted water.
When fork-tender, add the potatoes (plus the cooking water from the pot) and the dandelion greens into a blender. Pulse until smooth. Season with salt and freshly ground pepper to your liking.
This soup freezes nicely. Make extra and freeze for another meal!
Continue Your Eating-for-Healing Journey
Looking for more recipes? Just click here.
Read more about the energetic properties of dandelion!