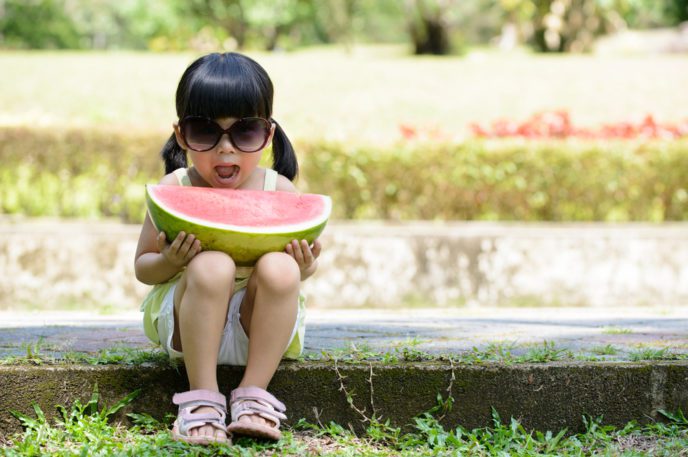 This time in quarantine has opened up a new realm of cooking. Kids are home all day long and the kitchen is rarely, if ever, closed. To top it off, those who have been able to score a select grocery delivery spot are opting out of heading to the store, and making the best of what arrives at their doorstep, even if limited. Others among us are choosing to be a bit creative with what we have at home, whether fresh, frozen or shelf-stable.
Over the next few weeks, we'll share some great recipes that require only a handful of fresh ingredients. And the really great part? The ingredients in these recipes can be easily substituted with others you may have on hand.
This Week's Quarantine Cooking Focus: Watermelon
Although typically a summer dessert, watermelon is extremely versatile. You'll be amazed at how black pepper and balsamic vinegar make watermelon come to life! Plus, although one watermelon goes very far, the second recipe helps you use the often thrown-away white rind. Try these savory recipes this weekend. You'll be able to prepare both using just half of a large watermelon.
Recipe 1: Watermelon and Cucumber Salad with Balsamic Glaze

Ingredients:
1/2 cup balsamic vinegar
2 teaspoons sugar
1/2 large watermelon, cubed

3 cucumbers, sliced and seeded
fresh mint leaves, chopped
juice from 1 lemon or lime
freshly ground pepper, to taste
Directions:
Combine the vinegar and sugar in a small saucepan over medium heat. Bring to a boil, stirring continually, until the mixture thickens. Set aside to cool.
Add the watermelon, cucumber and fresh mint to a bowl. Top with the fresh lemon or lime juice and the freshly ground pepper. Gently toss to combine.
Drizzle with balsamic syrup and serve!
Recipe 2: Watermelon Rind Saute

Ingredients:
2 Tablespoons sunflower oil
1 teaspoon sea salt
2 scallions, roughly chopped and separated
rind from 1/2 large watermelon, skin removed, roughly chopped
1 teaspoon mushroom seasoning
1 teaspoon sugar
Directions:
Heat a wok over high heat. Add the sunflower oil and the salt. When the oil is hot, add the whites of the scallions and the fresh ginger. Stir to combine.
When the mixture is fragrant, add the watermelon rind, the mushroom seasoning and the sugar. Mix well. Then cover the wok for 3-4 minutes to allow the rind to cook down and the flavors to mingle.
Add the scallion greens and mix again. Remove from the wok and serve!
Click below to watch Grand Master Lu prepare this special Summer treat!
TCM Tips:
Watermelon is more than the perfect Summer treat. It helps to energetically support the Heart, the organ "on call" in Summer.
Easy Substitutions:
If you don't want to go through the "trouble" of making a balsamic glaze, simply drizzle cubed watermelon with a bit of balsamic vinegar and black pepper.
Want to make it extra fancy? Add 1 cup of cubed feta or add some chopped strawberries.
Go Beyond!
Click here to read Minimalist Cooking for tips on how to cook a delicious and healthy meal with what you have available at home.
Learn more about the cooling properties of watermelon: Beat the Summer Heat with this Superfood.
If you enjoyed Grand Master Lu's recipe, join us for Heart Harmony. This virtual 3-week interactive program for self-nurturing starts Monday, June 15!
This program includes:
– 6 live calls with Q & A
– Qigong Practices
– Eating for Energy Plan
– Guidance from Grand Master Lu