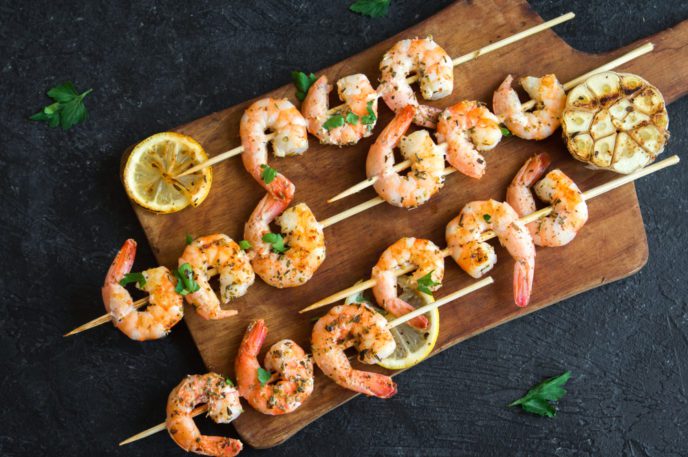 This time in quarantine has opened up a new realm of cooking. Kids are home all day long and the kitchen is rarely, if ever, closed. To top it off, those who have been able to score a select grocery delivery spot are opting out of heading to the store, and making the best of what arrives at their doorstep, even if limited. Others among us are choosing to be a bit creative with what we have at home, whether fresh, frozen or shelf-stable.
Over the next few weeks, we'll share some great recipes that require only a handful of ingredients. And the really great part? The ingredients in these recipes can be easily substituted with others you may have on hand.
This Week's Quarantine Cooking: Shrimp and White Bean Bruschetta!
This tasty salad can be served on its own as a light lunch, or atop tiny toasts. What a perfect addition to your Memorial Day barbecue!
Ingredients:
1 1/2 cups canelloni beans
1/4 red onion, finely chopped
zest and juice from 1 lemon
2 Tablespoons mixed fresh herbs, finely chopped, such as rosemary, cilantro and/or mint
Salt and freshly ground black pepper, to taste
1 baguette, sliced into 16 rounds, optional
2 tablespoons olive oil
1 clove garlic, halved
16 large shrimp, peeled
4 wooden skewers, soaked for 30 minutes or more

Salt and freshly ground black pepper, to taste
Directions:
Place the beans, olive oil, onion, lemon juice and zest, and all but 1-2 teaspoons herbs in a bowl and mix to combine. Season with salt and pepper.
Brush the toasts with olive oil and rub the toast with the cut side of the garlic. Toast over the grill for 3 minutes, or until lightly browned.
Season the shrimp with salt and pepper and brush with olive oil. Sprinkle the remaining herbs over the shrimp. Feed onto a skewer and cook over the grill until opaque and cooked through, 2-3 minutes on each side.
To assemble, spoon the bean salad onto the toasts. Then top with grilled shrimp.
TCM Tips:
Shrimp is associated with the Kidney and the Water element. This organ gains support from a salty taste, so seaweed and all types of seafood from the ocean's salty environment will help strengthen the Kidney. Ever have a craving for salt? This is the body's S.O.S. that your Kidney function is out of balance! The Kidney is also known as the mother of the Liver. When the mother is balanced, the child will receive the benefits.
Easy Substitutions:
We chose canelloni beans for this recipe because they have a more delicate flavor than some other beans. However, we also had them in our pantry! Don't rush to the store to pick up canelloni beans. Instead, substitute great Northern beans or chick peas (give the chick peas a little smash first).
Not a fan of beans? Replace the beans with 2 chopped avocados. Follow the rest of the recipe as listed.
If your ingredients are very limited, simply replace all "supporting ingredients"—olive oil, onion, lemon, fresh herbs—with a jarred dressing from your refrigerator.
Looking for a vegetarian option? Simply omit the shrimp and leave as-is, or add a handful of chopped cherry tomatoes and cucumbers.
Learn More:
Click here to read Minimalist Cooking for tips on how to cook a delicious and healthy meal with what you have available at home.
Revisit Grand Master Nan Lu's Podcasts Learn more about your body from the TCM perspective. Podcasts are available on grandmasternanlu.com.