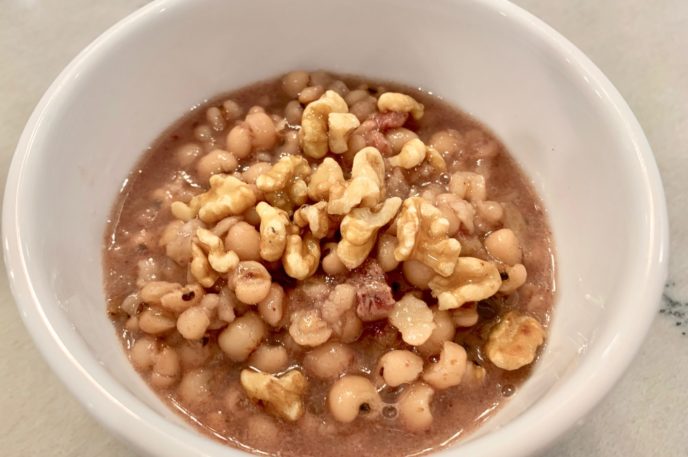 This time in quarantine has opened up a new realm of cooking. Kids are home all day long and the kitchen is rarely, if ever, closed. To top it off, those who have been able to score a select grocery delivery spot are opting out of heading to the store, and making the best of what arrives at their doorstep, even if limited. Others among us are choosing to be a bit creative with what we have at home, whether fresh, frozen or shelf-stable.
Over the next few weeks, we'll share some great recipes that require only a handful of fresh ingredients. And the really great part? The ingredients in these recipes can be easily substituted with others you may have on hand.
This Week's Quarantine Cooking Focus: Chinese Pearl Barley
Job's tears, or coix seed, as Chinese pearl barley is commonly known, is a chewy, earthy grain that lends itself to a multitude of dishes. From warming breakfast cereals to hearty soups, this versatile grain can be eaten all day long. Plus, with our current food awareness, we are learning to stretch ingredients and use leftovers in interesting ways. With one cup making enough barley to last 3 plus meals, this grain sure knows how to stretch its boundaries.
Below, we're providing two recipes to show you just how versatile Chinese pearl barley can be. But don't let these recipes limit you. Cook with intuition. Allow your inner spirit to guide you as you add what you have on hand, and season according to your own personal preferences.
Recipe 1: Barley Cereal
We all need a bit of TLC. This warming cereal is sure to do the trick! And while delicious for breakfast, try it for lunch and dinner, too. One pot will last you a few days. To pack a bigger punch, use 15 cups of water and cook the cereal as listed. When cooking is complete, use a ladle to scoop the majority of the remaining water into a heat-safe pitcher. Add honey or brown sugar and serve warm or at room temperature.
Ingredients:
2 cups Chinese pearl barley, rinsed well
1/2 cup Chinese red dates, rinsed well and halved
honey, to taste
1/2 cup walnuts, chopped and lightly toasted
Directions:
Add the water and rinsed barley to a large pot. Bring to a boil and reduce the heat to medium. Loosely cover the pot and let cook for 45 to 60 minutes, checking periodically to be sure the water has not dried out.
About 15 minutes before the barley is finished, add the red dates.
Spoon the barley cereal into a bowl (with or without the water) and top with honey and walnuts.
Recipe 2: Vegetable Fried Barley
A spin-off on vegetable fried rice, this dish makes for a tasty and colorful presentation.
Ingredients:
1 small carrot, peeled and chopped
1/2 red pepper, seeded and chopped
8-10 mushrooms, chopped
4 cups cooked Chinese pearl barley
1 teaspoon mushroom seasoning
1 Tablespoon soy sauce
Freshly ground salt and pepper, to taste
2 eggs, beaten, optional
2 teaspoons sesame oil
Directions:
Heat a large wok or saute pan over medium heat. Add the olive oil and onion. Cook until the onion is translucent, about 5 minutes. Add salt and pepper, to taste.
Add the remaining vegetables to the wok and mix well. Then add the pearl barley. Stir fry for 2 minutes.
Add the mushroom seasoning and soy sauce and mix to incorporate.
Create a well in the center of the wok. Add the beaten eggs and use a chopstick to scramble the egg into the pearl barley.
Season to taste. Transfer to a serving bowl and drizzle with sesame oil.
TCM Tips:
Revered since ancient times as an herbal remedy, Chinese pearl barley has proven anti-cancer properties and the ability to rid the body of extra water and mucus that contributes to weight gain, sluggishness and arthritis. This beneficial grain is also used to treat skin and digestive issues.
Easy Substitutions:
These recipes are easily customizable! Try adding baked apples or pears to the cereal and topping it with brown sugar and cinnamon. Pine nuts are another great addition. If you don't have access to Chinese red dates, try Medjool dates, figs or raisins.
Prefer different vegetables in your Vegetable Fried Barley? Go for it! Want to create a dish perfect for your meat-loving family? Add some crumbled or sliced sausage or mix in 1 cup of leftover roasted chicken. Planning to serve this as a summer salad? No problem! Omit the mushrooms and eggs, and instead, slice fresh avocado over the top.
More Tips:
Click here to read Minimalist Cooking for tips on how to cook a delicious and healthy meal with what you have available at home.