Nature knows exactly what it needs to ensure long life. She instinctively turns inward during the winter season to nourish her root. Your body is a reflection of Nature and craves this internal rest as well. Join us for our 2-week program and build better health!
Grand Master Nan Lu will guide you using various techniques including Qigong practices, informative lectures, a custom eating plan, and an interactive forum.
Did you know, Kidney energy is the root of life?
Every season is an opportunity to merge with Nature's consciousness. If you resonate with this feeling, join us.
Here's what you'll experience:
3 live lectures with Grand Master Nan Lu

Making the Connection Real: You with Nature, You with Qi
You, Five Elements and Understanding the Body's Wisdom
Seeing Your Beliefs through the Five Element Consciousness Framework

Qigong practices to nurture your root and calm your mind

Eating plan, mainly soups complete with recipes and a shopping list

Mid-week calls with instructors, Irma and Elaine, to guide you along the way

Private Facebook forum 
Register
Program Fee: $99.00
Herbal Supplement: Chicken Soup Mix $12.00
Herbal Supplement: Imperial Qi and KL Reboot
While herbs are optional, they allow the body to receive additional support. Imperial Qi will enhance healthy Kidney function while KL Reboot supports the cooperative relationship between the Liver and Kidney.
BONUS 2 additional weeks!
After the 2-week program, you'll be guided to develop your own intuitive eating plan, and practice a powerful Qigong posture for the following two weeks. Then on 2-20-2020 Master Lu will broadcast a call and meditation from the Grand Canyon.  He'll use the earth's energy to help you complete what now has become a 30-day experience.
Spirit Dancing
You may want to add this shirt to your collection. This custom tee was created by Grand Master Lu. The calligraphy is a symbol of Spirit Dancing. When the mind drops, the Spirit is able to flow and achieve its life purpose. Available in our shop.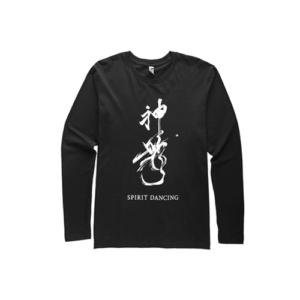 We Make it Fun, and Stimulating
Forecast for the New Year
In 2020, the element associated with the year is metal. Like metal, this is your time to shine and a huge opportunity to manifest your unique gifts. During this program, Grand Master Nan Lu will talk about the metal element and its meaning in your life, this year.
Recap
Lessons with Grand Master Nan Lu
Grand Master Lu offers three live conference calls: The first will be held on Sunday, January 19 at 9:30 am (Eastern). During each call, you will learn more about this season's energetic messages and how to match Nature's flow. All calls are recorded and posted on the private Facebook Forum.
As an added bonus, Grand Master Nan Lu will share several cooking videos demonstrating short-cuts and personal secrets.
Qigong Postures
You'll learn how to practice several Qigong postures to nourish your body and enhance energy flow. Grand Master Lu demonstrates each posture in a video message.
Massage Routine
Learn a simple routine to stimulate your energy foundation.
Additional Calls
Often questions come up as the program progresses. Instructors Irma and Elaine will be available to offer support on January 24, 12:00 pm.
Eating Light
You will have access to a healthy eating plan and a wide variety of easy-to-make soup recipes. You'll also receive a suggested shopping list that conforms to the eating plan. If you prefer to order out, ready-made soups are fine, too.
Private Facebook Forum
Express your thoughts and share your feelings as you interact with our online community.
Virtual Program
You will have exclusive access to all materials online. Access will be available on January 18.
Program Timeline
When you register, you will receive a confirmation email.
Two days prior to the program's start, you'll receive a shopping list of suggested food items.
One day before, you'll receive a link to log into your program materials.
Great Holiday Gift
Call us so we can personalize your gift:
212-274-1079.