Creating Balance
Nature, through her unconditional love, reminds us to take every opportunity to grow. From effort to no effort, she continues to transform, letting go of limitations. In the fall season, the action of letting go releases that which has been accumulated. The release is like a giant exhale making room for the next opportunity. As we begin this journey, congratulate yourself on partnering with the organic exchange in Nature. Over the next ten days we will gradually learn how to use Nature's infinite wisdom to build health and create balance.
It's Up to You
The key ingredient in this program is you. Your results depend on the commitment you make to quality Qigong practice. Do your best to practice each form daily for as long as you can. Be aware of how you feel after practicing.  Some Qigong forms can be done seated and may seem silly, while others require you to move and may be challenging at first. Grand Master Lu has combined these forms to give the body additional support.
Here's the first Qigong practice.
Thumb Rolls, Please!
Fun fact: In Chinese medicine, your thumbs have a direct relationship with your Lung energy. (You'll learn more about this connection on our opening call.)
Do this Qigong practice many times throughout your day:
Make loose fists
Point your thumbs toward each other
Rolls your thumbs outward in a circular motion
Slowly repeat the circles
Work up to 100 thumb rolls at one time
Talks with Grand Master Lu
Opening Call with Grand Master Lu
Click here to listen to the Fall Prevention Opening Call with Grand Master Nan Lu.
In keeping with the theme of transitions and change, Master Lu would like to shift the closing call to 7:30 PM on Wednesday, Sept. 23. He'll be joining you by Zoom video when you will be able to see him and others in the group.  Please do your best to join via video.  See you then!
Closing Call with Grand Master Lu
September 23, 7:30 PM (EDT) Moving Forward with Five Element Consciousness
Click here to join the Zoom Meeting
Meeting ID: 883 4631 3131
Passcode: Qiforms
Dial by your location
+1 312 626 6799 US (Chicago)
+1 646 876 9923 US (New York)
+1 301 715 8592 US (Germantown)
+1 346 248 7799 US (Houston)
+1 408 638 0968 US (San Jose)
+1 669 900 6833 US (San Jose)
+1 253 215 8782 US (Tacoma)
Meeting ID: 883 4631 3131
Passcode: 7899079
Click here to find your local number
Time for Gratitude
Before going to sleep each night and before rising each day, make a connection with your body.
Stretch out in the bed or on the floor. With your eyes closed, scan your body slowly and notice how you feel. What is your breath like? How at ease do you feel? Take some slow deep breaths. Instead of holding your breath, allow it to be full of nurturing Qi. Send a loving message of gratitude to your body.
Seasonal Eating
Our goal this week is to nurture the digestive system so your body can absorb the nutrients and energetic properties of the foods you eat. Since shopping may be an issue, we've chosen to offer suggestions rather than an actual menu to follow.
Herbal Support
The Prevention Herbs and Tea have been selected to support your overall immune health. The body will be so happy you've decided to offer this additional support!
Take the 555 herbs in the morning and in the evening. They are best taken on an empty stomach. Drink the tea as directed throughout the day.
If you are currently on medication, take the 555 herbs 60 minutes before or after medication.
Facebook Forum
Post your questions, comments, before/after pictures on our private Facebook forum. The consciousness of the group will amplify your personal results and is a valuable tool. To join, login to your Facebook account and click on this link:
Click here to join the private Facebook forum: Fall Prevention 2020
Five Elements - A Universal Framework
Use this chart to help you decipher your body's messages. Begin by looking at the taste, color and emotion associated with each organ. For example, the Fall season is the time of year when the Lung and Large Intestine match seasonal energies. Wearing white and eating spicy foods may be what you're drawn to. If so, those organs are asking for support. You may find that during the Fall you feel a bit more down or tired than at other times. Retreat into Nature and let it support you in letting go of sadness and control.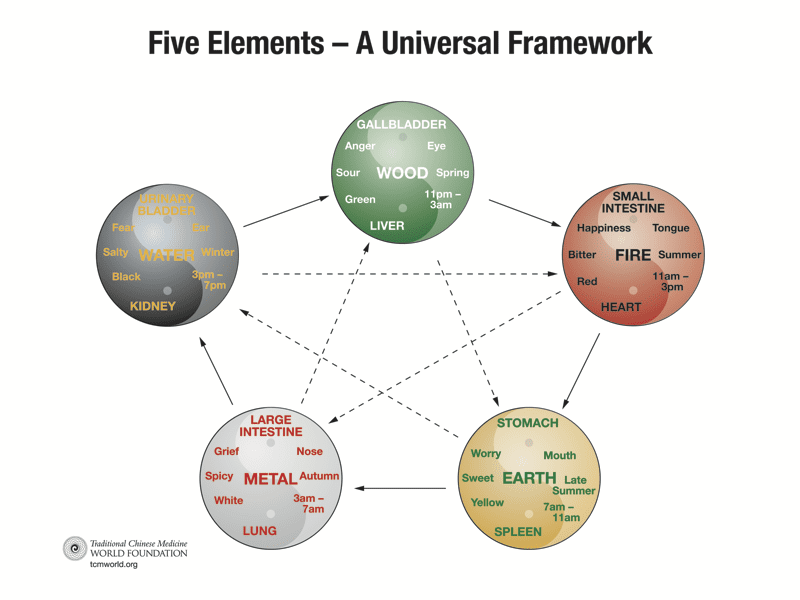 Nature Knows
Get out into Nature. Watch the transformation that's happening before your very eyes. Become aware of these changes. Natural law shows us that everything happens in its own time and for good reason. Nature knows that it must meet the requirement each and every season in order for life to continue. We'll use the energy of the Fall season to release what the body does not need and to discover internal gifts you may have accumulated throughout the year.
Repeat this message daily:
Everything happens for a reason. The reason is always for good.