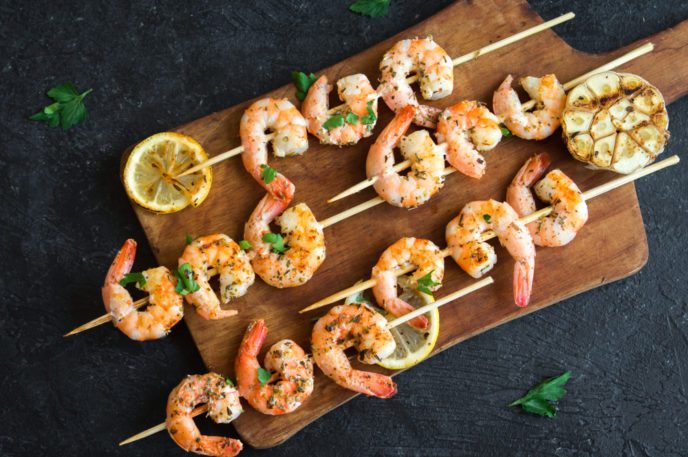 The world is again reopening as we are now seeing a lift of Covid restrictions in many places. As we usher in summer this Memorial Day weekend, and honor those who sacrificed for our freedom, we often celebrate with the quintessential backyard barbecue.
While plates may be a-brimming with greasy cheeseburgers and sweet desserts, we'd like to introduce a few recipes that are just as delicious (or even moreso) and don't leave you feeling full and bloated. These recipes fit in perfectly to the eating-for-healing portion of Dragon's Way Qigong®, a program created by Grandmaster Nan Lu.
Foods in our Dragon's Way Qigong program are chosen for their energetic connection to the body. In addition, eating close to Nature (fresh, seasonal foods) and those that are easy to digest (warmed foods and warm or room temperature drinks) ensures that the body doesn't need to use too much Qi for digestion. Instead, this energy can be used for healing. What a powerful approach to eating!
This weekend, add some new options to your barbecue menu. Try the ones listed below or search through our recipe database to find a favorite of your own.  And of course, Nature provides the sweetest dessert: watermelon fresh off the rind.
Shrimp and White Bean Bruschetta
This tasty salad can be served on its own as a light lunch, or atop tiny toasts. What a perfect addition to your Memorial Day barbecue!
Ingredients:
1 1/2 cups canelloni beans
2 Tablespoons olive oil
1/4 red onion, finely chopped
zest and juice from 1 lemon
2 Tablespoons mixed fresh herbs, finely chopped, such as rosemary, cilantro and/or mint
Salt and freshly ground black pepper, to taste
1 baguette, sliced into 16 rounds, optional
2 tablespoons olive oil
1 clove garlic, halved
16 large shrimp, peeled
4 wooden skewers, soaked for 30 minutes or more
Salt and freshly ground black pepper, to taste
Directions:
Place the beans, olive oil, onion, lemon juice and zest, and all but 1-2 teaspoons herbs in a bowl and mix to combine. Season with salt and pepper.
Brush the toasts with olive oil and rub the toast with the cut side of the garlic. Toast over the grill for 3 minutes, or until lightly browned.
Season the shrimp with salt and pepper and brush with olive oil. Sprinkle the remaining herbs over the shrimp. Feed onto a skewer and cook over the grill until opaque and cooked through, 2-3 minutes on each side.
To assemble, spoon the bean salad onto the toasts. Then top with grilled shrimp.
Summery Corn Salad
Nothing says a summer barbecue more than corn on the cob! And after you finish husking your corn, be sure to save the silks. When boiled, these fibers create a delicious tea to help rebalance your digestive system. Read more here.
Ingredients:
4 corn on the cob, silks reserved
1 cup cherry tomatoes, quartered
4 scallions, chopped
1/4 cup fresh basil, sliced thinly
Dressing:
3 Tablespoons extra virgin olive oil
Juice of 1 lemon
Freshly ground salt and pepper
Directions:
Boil the corn in a large pot until cooked through. Remove from the water and let sit until cool. Carefully cut the kernels off of the cob and place them in a bowl. Add the tomatoes, scallions and basil. Mix the dressing separately and pour atop the salad. Mix to combine.
Scrumptious Veggie Burgers
These patties are a healthy alternative to packaged veggie burgers and provide many nutritious vegetables and soy protein from tofu. Be sure to buy only organic, non-GMO tofu. The zucchini and garlic help to boost your Liver, while the red pepper supports your Heart function.
Ingredients:
1 zucchini, chopped
1 red pepper, seeded and chopped
3 cloves garlic
1/2 of a 14 ounce container extra firm tofu, drained and pressed to remove any remaining liquid
Freshly ground salt and pepper
1 Tablespoon fresh basil
1 teaspoon each cayenne pepper, garlic powder, allspice
3 cups panko bread crumbs
2 Tablespoons grapeseed oil
Directions:
Place zucchini, red pepper, and garlic in bowl of a food processor. Pulse until finely diced. Add tofu, salt, pepper, fresh basil, and all remaining herbs. Continue to process until the mixture comes together.
Add the panko one cup at a time, pulsing until the mixture is the consistency of a dense meatball. Use your hands to form the mixture into round balls. Flatten each ball with your thumb and place on a cookie sheet coated with grapeseed oil.
Bake at 400° for about 35 minutes. Flip the patties halfway through baking. Patties should be lightly browned on both sides. Serve warm, with or without the bun, with a dipping sauce of your choice.
There's More to Explore!
Learn more about Dragon's Way Qigong®.
Find an instructor in your area!